Ieuan Wyn Jones to stand down as AM with immediate effect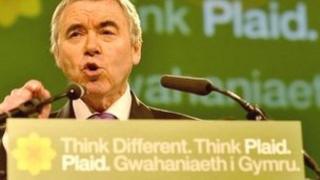 Ieuan Wyn Jones is standing down as an assembly member with immediate effect, triggering a by-election for the Ynys Mon seat.
The former Plaid Cymru leader confirmed his decision with presiding officer Rosemary Butler who now has three months to call the by-election.
It follows his announcement on Tuesday that he was leaving the Welsh assembly to lead the new Menai Science Park.
He was replaced as leader by Leanne Wood in March last year.
An AM since 1999, Mr Jones took Plaid into government for the first time in the One Wales coalition with Labour in 2007.
Mr Jones, who was also MP for Anglesey for 14 years, has expressed a desire to hold an early by-election on the island on 1 August, but it is for Mrs Butler to decide.
The former deputy first minister explained that as he would begin working in his new role in the summer, an early by-election would allow his successor to "be ready for the start of the busy assembly term in September."
He said: "As I will begin working in my new role in the summer, and following discussion with people locally and in the assembly, it is my feeling that an early by-election would be preferable.
Paid tribute
"It is for these reasons that I have today given the presiding officer notice that I will be standing down from the assembly with immediate effect.
"This would allow a new AM to be elected early and for that AM to settle in over the summer recess period and be ready for the start of the busy assembly term in September."
The presiding officer, who accepted Mr Jones's resignation, paid tribute to his work as an assembly member.
Mrs Butler said: "Ieuan Wyn Jones will be a great loss to the National Assembly for Wales having made so many thoughtful and passionate contributions in the chamber over the past 14 years.
"He led his party with great dignity and authority as well as diligently representing his constituents from Ynys Mon.
"He will be sorely missed, but on behalf of all assembly members I would like to thank him for his contribution and wish him well in his new career."