Snowdon: Woman rescued after cafe worker hears her cries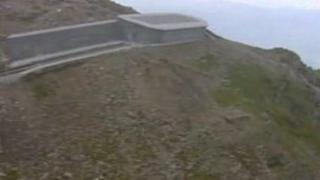 A woman was rescued on Snowdon after a worker in the cafe on the mountain's summit heard her cries for help.
The 21-year-old woman had spent the night on a ledge after slipping and becoming seriously injured.
A rescue helicopter from RAF Valley was unable to reach her at first due to cloud but winched her to safety on a second attempt after re-fuelling.
The woman, from south Wales, was taken to hospital in Bangor with suspected back, pelvic and rib injuries.
She was picked up about 300ft (90m) short of the summit where she had been descending on the eastern side of the peak.
Six members of Llanberis mountain rescue team headed for the scene as a well as the helicopter.
It is thought the woman had spent more than 20 hours on the ledge.