Shed ban for drug grower Simon Redclift of Dinas Powys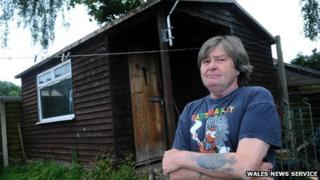 A former cannabis user is dismantling the garden shed where he used to grow his drugs after being banned from going inside it by a judge.
Simon Redclift, 53, of Dinas Powys, Vale of Glamorgan, has been warned he could be jailed if he enters the wooden shed while on bail.
He has admitted producing cannabis and possessing it with intent to supply at Cardiff Crown Court.
Police said the plants in his shed could have been worth up to £20,000.
Media Wales has reported that Judge David Wynn Morgan has told the unemployed father he is considering whether he can order the shed to be removed from his garden.
The judge also said he would consider using a restraining order preventing him from going inside the shed. He cannot go inside it while on bail.
The antique collector said the shed had been a room for his family over the years but he was willing to get rid of it.
He said he had liked to relax in the shed doing woodwork or watching DVDs while smoking cannabis.
The shed, which had been adapted for cannabis cultivation, had recently been turned back into a normal garden shed.
"I don't really see what it proves to get rid of my shed," he said.
"If I wanted to continue growing I could do it in my attic, I could do it in the back garden, I could do it in a cupboard - it's just a waste of my shed.
"But if it satisfies the judge, it's something that I'm prepared to do. I'm not going to cultivate again."
He said it had become his second living room when his wife gave up smoking because he could no longer smoke in the house.
"I'm hoping someone wants it. But if I can't find a taker it's going to be burnt. It's a shame," he said.
He said he smoked cannabis to deal with panic attacks which had developed after spending three months in prison for stealing from his employer.
He has previous convictions for growing cannabis at his home in 2004, 2008, 2010 and 2011.