London 2012: Lord Coe praises Wales' Olympic legacy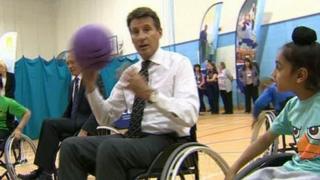 Wales is well placed to encourage more people into sport as a result of London 2012, says Lord Coe, who led last summer's Olympic and Paralympic Games.
He visited Wales to speak at a sports leaders' conference to discuss how to build on the success of the Games.
He also visited Fitzalan High School in Cardiff which is home to a number of new disability sports clubs.
Olympic legacy ambassador Lord Coe said: "Wales has one of the best foundations for disability sport."
He said it was up to community clubs and organisations to build on London 2012 by creating more opportunities for people to play sport and take exercise.
'Jade Jones'
"It's absolutely right that local people decide how to maximise all the benefits that they saw last year, either Olympic or Paralympic, whether its social or economic," he added.
"You can't organise that from the centre. The legacy unit which sits within government is there to help set those ambitions."
He suggested that Wales' comparatively small size and close community networks could be an advantage in reaping the benefits of the Games.
He said: "I think in smaller communities it's probably easier to bring a lot of this together.
"The impact that people like Jade Jones had on communities in Wales off the back of the Games has been profound."
It is important that sports clubs do not see that impact disappear over the next few years, he said.
Lord Coe also praised the work of Disability Sport Wales, which he regards as an example of best practice for the rest of the UK to follow.
"The increase in numbers of young people, particularly with disability or impairment, now being involved in sport has been dramatic," he said.
"Wales has one of the best foundations for disability sport.
'Shop window'
"Over the past few years, I've seen a lot of smart things happening in Wales, particularly in disability sport. I've always been incredibly impressed."
Earlier, in his keynote address to Sport Wales' annual conference, Lord Coe encouraged the idea of bidding for big sporting events in Wales.
He said the biggest drive of sports participation was the "well-stocked shop window" of major events.