Balcony fall death: Shaun Davies, went for taxi cash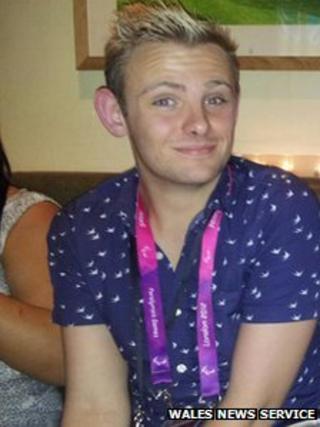 Tributes have been paid to a 19-year-old man who apparently fell from a Bulgarian hotel balcony after going to get money for a taxi.
Shaun Liam Davies, from Llanelli, Carmarthenshire, went to get the cash after a night out at Sunny Beach resort on the Black Sea.
His three friends later found his body below the 10th floor balcony.
Ann Jones, his manager at the Trostre Retail Park McDonalds, said they were "extremely saddened".
"He was an extremely popular and well-liked member of the team and we are working to support our staff at this very difficult time," she added.
Mr Davies had been on a week long package holiday in the resort when he returned with his friends in the cab after the night out at 03:45 BST.
He had travelled to Bulgaria with tour firm Thomas Cook, which offered its sympathies to his family and friends.
The company said its team in the resort was providing its total support "during this very difficult time".
'Total shock'
Mr Davies had been saving up for months for the holiday with friends, and tributes have been paid to him on Facebook and Twitter.
His friend Alison White wrote: "Still in total shock over the death of Shaun - why is it that only the good die young?
"It was such a privilege knowing Shaun, he was one of life's kindest, funniest, most caring people.
"His smile and bubbly personality would light up a room, I've shed a lot of tears because there's one thing for sure, this place will never be the same without him.
"Our loss is heaven's gain."
Sunny Beach has become a popular holiday destination for young western Europeans.
The British embassy in the Bulgarian capital Sofia has recently launched a special information and prevention campaign called Holiday Hangover.
The campaign was started after three British tourists died last year after falling from balconies.