Cardiff City plan stadium expansion in time for 2014/15 season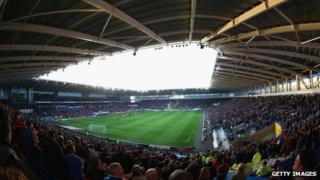 The home of Cardiff City will be expanded to a capacity of 32,500 in time for the start of the 2014/15 season under plans being drawn up.
The proposals have been outlined to supporters' representatives and work could start as soon as September if planning permission is granted in time.
The first phase will see an extra tier added to the Ninian Stand to accommodate 5,000 seats.
Further expansion in the future could see the capacity reach 38,000.
This would be done by adding new tiers to two other stands increasing capacity by 2,500 to 3,000 each.
The proposals have been outlined to Cardiff City Supporters' Trust, whose chair Tim Hartley said: "We're very impressed by the plans to extend the stadium and to do it so quickly.
"It's very exciting that the owners want to increase the capacity and this bodes well and shows their commitment to the club.
"Let's hope the team can repay that confidence with some great performances in the Premier League."
'Impressed and excited'
The Bluebirds are playing in the top division next season for the first time in over 50 years and, while the expansion will not be ready by then, it would allow the club to generate more income from bigger crowds in future.
Plans were also outlined for new training facilities at Hensol in the Vale of Glamorgan.
Mr Hartley added: "The plans for the club's new training facilities at Hensol are as impressive as those for the stadium and it's obvious the club wants to move fast to ensure Cardiff has all the facilities befitting a Premiership club.
"It was difficult to take it all in but we left the meeting impressed and excited by what we had seen.
"The club will arrange a presentation to fans of all of this work so watch this space."