St David's Hospice in Newport takes on in-patient role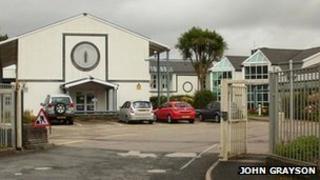 A community-based hospice in Newport is to take over an inpatient service set up by nuns almost 20 years ago.
St David's Hospice Care, which provides in-home and community-based day care, will manage the 10 beds at St Anne's Hospice in Malpas.
St Anne's is on the site of St Joseph Hospital and has been run by the Sisters of St Joseph since 1994.
St David's chief executive said the in-patient site would retain the St Anne's name in recognition of the nuns' work.
Emma Saysell said: "It's fair to say that the Sisters of St Joseph recognised that how much longer they could continue to run the unit was tricky, because they are an ageing population but also hospice care has become more complex and will become more so.
"It was quite a natural progression to have a single service."
'Seamless service'
Last year, St David's opened new £2.9m headquarters in Malpas offering a chemotherapy clinic, children's support services, bereavement and carers' groups and complementary therapies.
Since then the two sites have been across the road from one another and Ms Saysell said uniting the two made sense.
"They were quite a small hospice compared to us and hopefully there will be lots of economic benefits to running one hospice," she said.
"It gives us a chance to run a seamless service."
Ms Saysell said they remained focused on serving people in their homes where possible but added: "Now we can have an in-patient provision if they need that at any stage of their illness."
The work of St Anne's costs £1.2m per year and is partly financed by fundraising in the community.
The chief executive has urged the public to continue with their efforts.
"I don't want people to forget about the fact that St Anne's will still need finance. It's really important that people continue to support us," she said.
The charity is no stranger to fundraising. St David's running costs are just below £6m per year, and only 20% of that is funded by the NHS.
Ms Saysell added: "It's just getting harder and harder. It's tough out there. A lot of people in the charity world are recognising that it makes sense to work together."