Cwrt Sart, Briton Ferry: Final push to save school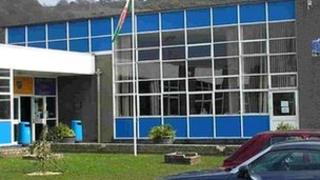 Campaigners are launching a final bid to save their school which is facing closure as part of plans to build a £39m "super school" in Baglan.
Neath Port Talbot council intends to shut Cwrt Sart, Glanafan and Sandfields comprehensive schools and incorporate Traethmelyn Primary School.
The new school will have 1,500 secondary and primary pupil places and is planned for completion by 2016.
But campaigners say Cwrt Sart in Briton Ferry should stay open.
They have until 4 July to oppose the plans after the council issued a statutory notice of proposed closure on the school along with the two other Port Talbot-based schools.
The move is part of the local authority's £93m schools reorganisation programme.
The "super school" would incorporate pupils aged three to 16 in the Baglan area and would be built on council-owned on playing fields at Western Avenue, Baglan Moor.
But while campaigners are backing the need for the council to make changes, they feel Cwrt Sart should remain open and say plans to close it are "not justified".
Teifion Rees, chairman of the school's governing body, said: "The school is one of Neath Port Talbot's most successful and highly performing schools.
"Its performance and results constantly place it in the top 25% of schools in Wales when compared to similar schools."
He added: "The concerns indicated in our response to the authority's proposals regarding our school are not simply the concerns of the governing body and school community.
Petition
"They are very much shared by a significant number of local people, businesses, places of worship, voluntary organisations and elected community representatives.
"There is very much a groundswell of genuine concern regarding the authority's proposals for Cwrt Sart which is reflected in the level of support in both Briton Ferry, Melincryddan and further afield for our campaign to save our community school."
More than 6,014 people have signed a petition which will be handed into the council.
Neath Port Talbot council confirmed following a consultation period, its cabinet has endorsed recommendations for a new school for three to 16 year olds.
A statutory closure notice has been issued on all the schools affected which ends on 4 July.
"Comments and objections submitted during this period will be reported to cabinet and if there are no objections, then it will be for cabinet to approve implementation, which is intended for 1 September, 2016," the council added.
"If any objections are received during the statutory notice period then the proposals will be referred to the Welsh government's education minister (Leighton Andrews) for decision."