Ambulance response times to priority calls 'disturbing'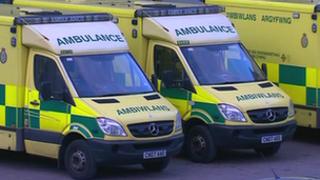 Ambulances took over twice the target time of eight minutes to respond to 11,000 emergency calls in Wales last year, figures show.
It took seven hours to reach one patient on a Category A call in north Wales due to heavy snow.
Plaid Cymru called the figures "disturbing" but the Welsh Ambulance Service said it dealt with an extra 22,000 calls last year.
Ministers said only 6.8% of category A responses went beyond 20 minutes.
They were responding to concerns from Plaid, which obtained figures for the longest response times under the Freedom of Information Act (FOI).
Plaid's health spokesperson Elin Jones said: "To have more than 11,000 of the most urgent calls taking more than double the target time of eight minutes to respond to is disturbing.
"These calls can be life and death situations where time is crucial.
"I'm shocked that some Category A calls took many hours to respond to and clearly questions need to be asked."
The service already faces a major shake-up and the latest criticism follows concerns it had missed its response targets for the most urgent cases for 11 months in a row.
The Welsh Ambulance Service NHS Trust (WAS) said it had to deal with 165,000 calls last year.
Snow drifts
Service delivery director Sue Jenkins said ambulances reached over 101,000 of the "red calls" within the eight minute standard, which was almost 3,500 more patients than the previous year.
She said: "As a trust we take the improvement of our performance very seriously and are working hard both internally to ensure that we have the right amount of crews on at the right time when patients are calling for our help."
Ms Jenkins said they were also developing with health boards ways for patients to find medical help when they did not need an ambulance or to go to an A&E department.
Plaid also asked for the longest time it took an ambulance to respond to a Category A call in each of the seven health board areas across Wales.
Ms Jenkins said a seven hour delay to a call-out in north Wales was caused by hold-ups due to the worst period of snow the region had experienced in many years, with 12ft (3.6m) drifts.
She said the call was in a rural area with trees blocking roads and that police and mountain rescuers helped out with the incident after helicopter crews had been grounded by the weather.
The Welsh government said performance was improving and that the eight minute response standard should not be the only way to measure all ambulance performance.
A spokesperson said: "While recent improvements in performance are encouraging, more needs to be done to ensure performance improves in the long term.
"There is wide agreement that the eight minute target should not be seen as the only measure of ambulance performance.
"While speed is particularly important for some conditions such as cardiac arrest, there is little clinical evidence to suggest other less acute conditions would benefit from a blanket eight minute response.
"We are currently exploring how ambulance service performance can be measured to better reflect the outcome for the patient, not just the speed of arrival."