Refugee Week: Three Syrian stories from Eye on Wales
To deal with the ever-increasing flood of refugees and displaced people, the UN has launched the largest appeal in its history - seeking $5bn - £3.2bn - for humanitarian aid to Syria.
On the eve of Refugee Week - which aims to encourage a better understanding of Britain's history of giving sanctuary to people escaping persecution - BBC Radio Wales' Eye on Wales programme speaks to three Syrians who have found a home in Wales.
Ronahi Hasan
From the city of Kamishli in the north of Syria, she and her family fled the country in 2009 to escape the persecution of the Kurdish minority by President Bashar al-Assad's government. They now live in Cardiff.
"The situation for the Kurdish people, it wasn't great. We were suffering. It was nothing new. For more than 40 years Kurdish people are suffering in Syria… especially after 2004 and the Kurdish revolution. Then the situation became worse and worse.
"Imagine that you live in your own land, but you can't own it. You're not allowed to have the deeds. Imagine. It's unbelievable. It was too much oppression, so my family decided to flee.
"It was a very very difficult journey. At every step there were massive fears. It was horrible. We had no choice. If you want to live in peace, be safe, you have to do it. Otherwise you don't know what your fate will be in Syria.
"When I arrived in the UK I didn't speak English. Imagine, if you can't speak the language and you don't have any idea about the culture, the people, the way of life? It's very difficult.
"Here you have to start from nothing; you have to build up from nothing. If you have qualifications back home - like me and my husband - you can't use it here.
"We've become students, like we were in primary school. You have to learn English, step by step. It's a very long journey.
"We try our best to participate in all aspects of public life. We want to be a part of this country and show how we appreciate that it opened its arms to us."
Dr Sameh Otri
From Aleppo, he came to study in Cardiff in 2000. He has not been back to Syria since 2006 when he refused to return to join the Army.
Now the manager of the Dar Ul-Isra Muslim Education and Welfare Centre in the city, he helped set up a charity to raise funds for medical and educational supplied and has made three trips to refugee camps on the Turkish-Syrian border.
"One of the camps was Atma camp, with 13,000 refugees. It is in no-man's-land, so there's nobody to look after it officially. There are people from small, charitable organisations there, but there is no Turkish or Syrian government to look after them.
"We met mothers who said they hadn't had milk for a week. There's no electricity, the water is dirty, there are no proper toilets. I saw a child of 10 carrying a gun. It really isn't a safe environment at all.
"When I returned I heard that the Assad regime had attacked that camp, with aircraft and shelling.
"(For the second trip to a school) we collected art materials for educational workshops. We used to go early in the morning to 7pm, trying to draw a smile on the children's faces.
"We asked them to draw whatever they think. They drew tanks and people fighting. Then we gave them a star or a heart or a butterfly - nice images - to change it.
"It is a platform to talk about their experience. They talk about how they lost their mother or father or how their brothers are still inside Syria.
"They all have stories about how they saw death in front of them."
Melhem Mansour
From Damascus, but now living in Cardiff. A campaigner for reform even before the Arab Spring reached Syria, he was arrested in the early days of unrest and given a choice between "martyrdom" or imprisonment or exile from the country. His parents remain in the Syrian capital.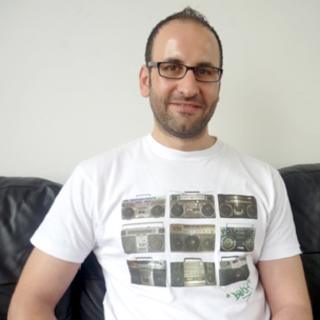 "You have a lot of checkpoints in Damascus. You may have to go through at least 12 checkpoints - which takes around an hour - just to travel a short distance. And it's not safe because you have some kind of bombing every time."
"In many areas we have kidnappings. Some of my relatives were kidnapped. They had to pay a lot of money and they don't have it. They had to give them their cars or sell their shops in order to get back their family members.
"A lot of people are lost - there are no records if they are arrested or dead or kidnapped. There are around 5,000 people with no records. You have at least 200,000 people arrested across the country.
"More than 10m people are in basic need of food or fresh water in the country and surrounding countries.
"That's why we really have to think about how to stop this conflict. As the conflict goes on, international donations and support are going down because the international community can't afford to support aid to Syria."
Eye on Wales is broadcast on BBC Radio Wales at 13:30 BST Sunday 16 June.