Cardigan Bay dolphins 'sent north' by water sports noise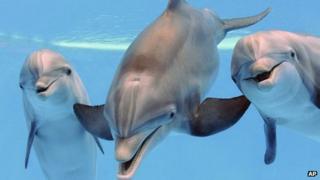 Speedboats and water bikes using Cardigan Bay may be driving its famous dolphins over a hundred miles north to quieter waters, experts have warned.
Bottlenose dolphins usually spend the summer months in the sea off Ceredigion before heading to north Wales and the Isle of Man for winter.
But research suggests they are spending less time in Cardigan Bay and noisy water sports could be partly to blame.
The Sea Watch Foundation has called for better protection for the mammals.
Tourism concern
Cardigan Bay has the largest population of bottlenose dolphins in the UK and as a tourist attraction they are important to the economy.
While the dolphin population in the area has remained unchanged in recent years - there are usually between 300 to 350 - marine experts say they have noticed a change in their behaviour.
Daphna Feingold, Sea Watch Foundation's monitoring officer in Cardigan Bay, said that while other factors could be at play, such as changes in fish stock, prey and pollution, there was concern that an increase in recreational boat use was having an effect.
"We know that the dolphins use the waters around Anglesey and the Isle of Man in the winter months, usually between October and March or April," she said.
"But in the past two to three years we have seen the dolphins using these more northern waters in some of the summer months too.
"It's not that they're moving away from Cardigan Bay entirely but they are using the area differently."
She said there were other changes to the dolphins which suggested they were being affected by an increase in water sports.
Research has shown they are clubbing together in large groups more and whistling louder to communicate - behaviour which is typical of the mammals in noisy waters.
Sea Watch Foundation, which is contracted by Natural Resources Wales to maintain the dolphin population, is calling for better protection for the dolphins, including ensuring vessels stick to strict regulations while using Cardigan Bay.
The area has two Special Areas of Conservation (SAC), which means there is a speed limit of 8 knots for boats and a ban on commercial fishing.
"We're seeing more and more boats using the area and while it would be hard to put a limit on that, we would like to see better maintaining of the regulations in the SAC," said Ms Feingold.
"We're also trying to get better protections in the waters of north Wales as they [the dolphins] are not monitored so closely when they are there."
She added that while the most important factor was the health and welfare of the dolphins, there were wider concerns about them spending less time in Cardigan Bay.
"The dolphins play a big part in tourism in Cardigan Bay, especially certain towns like Pwllheli, Aberystwyth and New Quay. If dolphins are using the area less that might affect that," she said.
"So it's important to regulate these areas not just for the dolphins but also for tourism and the extras that come out of that.
"Dolphins will go wherever's best for them - where there's more food or less noise or where they will be happy."
Steve Hartley, manager at the Cardigan Bay Marine Wildlife Centre, said he believed more food availability around the Isle of Man was likely to be the main reason the dolphins had stayed there longer earlier this year.
"It happens to coincide with a lot of herring unseasonably turning up around the Isle of Man in the spring," he said.
"I think they have been tempted to stay back this year in particular because of all the herring up there."
He added: "We're having daily sightings of dolphins in Cardigan Bay so I don't think we need to panic just yet."