Foster parents Alice and David Oldfield honour in Queen's birthday honours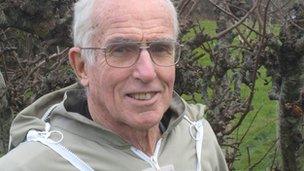 A Flintshire couple have been awarded with MBEs in the Queen's birthday honours list after more than a quarter of a century as foster parents.
During that time Alice and David Oldfield from Shotton have looked after more than 100 children.
The couple, both 75, say they have no intention of giving up fostering "as long as we can move around".
Meanwhile, Martin Walter Shaw, from Anglesey, receives an OBE for services to the National Bee Unit.
Mr Oldfield said the honour came as a "complete surprise" but they were both "very, very pleased".
"We try to keep in touch with them (their foster children) when they leave although they are spread out in different parts of the country by now," said Mr Oldfield.
"They visit us though, with their own children, and it's rewarding to see that they've done good."
Mr and Mrs Oldfield, who have four of their own children, decided to give fostering "a go" over 25 years ago.
"It's something we both agreed to do," Mr Oldfield said.
"We take an interest in them, it's not just a job.
"Some have stayed for eight years, some for five, whilst others come for less."
He said his advice to any would-be foster parent would be to "not think of going into it for 20 years, just give it a go to see how you get on".
The MBE honour came as a "complete surprise", he added.
"We didn't understand it, we felt some people were more deserving... but we're very, very pleased.
"It took us a few days to get used to it and we're still floating about."
Former research scientist Martin Walter Shaw, 78, from Dwyran on Anglesey is awarded an OBE for services to the National Bee Unit and to bee keeping on Anglesey.
"When I heard I was embarrassed as it was never a thing I imagined would happen," he said about his award.
"I associate the award with establishment-types and although I am not anti-establishment I am free thinking and not afraid to say what I mean."
As well as lecturing, teaching and helping new beekeepers Mr Shaw is involved with the bee unit which works on behalf of bee keepers.
Mr Shaw added he was passionate about turning scientific theory into practice so that beekeepers can improve their beekeeping skills.
He said his bee-keeping began in 1987 when he took over a beehive from a friend who was moving away and he now has 50 hives.
Mr Shaw, who is known as Wally, said more and more people were becoming interested in keeping bees - with the Anglesey Bee Keepers' Association growing from 50 members to 100 in the past five years.
Howel Hughes Roberts, from Caernarfon, has been awarded the British Empire Medal for voluntary and charitable services in Gwynedd.
Mr Hughes Roberts is one of the founders of the William Mathias Music Centre whose 30 tutors provide 370 children with music lessons each week in Gwynedd, Anglesey and Denbighshire.
But he has also been treasurer and of the Guide Dogs for the Blind in Caernarfon for 30 years and of the town's RNLI station for more than 20 years.
"I am very pleased to receive the honour," Mr Hughes Roberts said.
"It's an acknowledgement, I suppose, for the work I have tried to do for the last 30 years."
Mr Hughes Roberts said the William Mathias Music Centre was set up as a response to cuts in council music budgets.
Related Internet Links
The BBC is not responsible for the content of external sites.