'Drug hunter' Chris McGuigan on medical research excitement
By Owain Clarke
BBC Wales health correspondent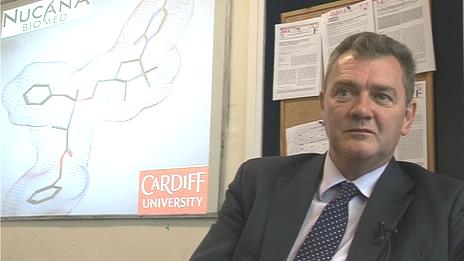 There has never been a more exciting time to be part of medical research in Wales, says one of the country's leading scientists.
A new life sciences hub is being established in Cardiff Bay with the aim of nurturing home-grown companies and attracting top international talent.
Universities are increasingly at the cutting edge of developing new medicines and technology.
Prof Chris McGuigan called his "drug hunting" work difficult but satisfying.
The professor of medicinal chemistry at Cardiff University keeps a giant red die on his desk at Cardiff University.
It reminds him of the long odds that are involved in many aspects of his research and is also a reminder that luck, sometimes, has a part to play in the development of new medicines.
For 19 years Prof McGuigan has led a team of researchers at the university whose aim is to develop new compounds and molecules to combat a range of diseases and infections including cancer.
But the odds of success in the field, he admits, are slim.
"Drug discovery is a long and difficult process," he explains. "It's very long and expensive. Current data suggests it takes £1.2bn to develop one new medicine.
"As a university we can't introduce a medicine to people, it's too expensive. So what we do is take the project as far as we can then we licence and sell the product to a company.
"And the chance of success from start to finish is worse than one in a million. Even to get a drug into first stage clinical trials, into humans, the odds are worse than one in 100,000."
But as I interview him, I sense a glint in his eye. And that is because, despite the long odds, his team has achieved the feat on three separate occasions.
"Three new molecules have gone from my head, through a piece of paper, through the synthetic lab, the chemistry lab here in Cardiff, into cells and then finally into patients," he said. "Three have reached that stage which is very exciting."
It is due, he says, to hard work but also, as the die on his desk suggests, the occasional stroke of luck.
"The first one in fact was a drug we discovered by accident," he said.
"We were researching a molecule for the cold sore virus and we shipped this molecule to Belgium.
"In the post to Belgium the molecule rearranged its shape and generated just a tiny trace of a new molecule... after about a year's worth of detective work we tracked down what the rearranged molecule was.
"It's now the world's most powerful inhibitor, not of the cold sore virus but of the chicken pox-shingles virus."
However, you will not be able yet to ask your doctor for the drug. It still needs to pass final (stage three) clinical tests and the odds of passing those are the same as flipping a coin. If the coin falls the wrong way it could scupper over a decade's worth of work.
Prof McGuigan knows how that feels. Another of his discoveries - a molecule designed to target hepatitis C - fell at the final hurdle.
Had the trials proved successful, it is rumoured, Cardiff University could have benefited from licensing and royalty agreements amounting to many millions of pounds.
But that setback has not dampened Prof McGuigan's enthusiasm.
He is buoyed by what he calls extremely encouraging early clinical results for an anti-cancer compound designed by his team.
"In cells in the lab where the current drugs were not at all effective ours is fully effective," he said.
"So far we've treated over a dozen patients in a clinical trial in London. The preliminary data is very encouraging."
He added: "It's very early but extremely encouraging... and it was designed in Wales on a piece of paper in this office. And the first gram of the molecule was made here."
The ultimate aim is to develop a "made in Wales" breakthrough medicine.
But in the meantime Prof McGuigan said his cutting edge research was having significant knock-on benefits.
"I think there are three separate but equally important areas where Wales benefits from this work," he said.
"The first is training. In my lab we've trained 100 researchers, 45 PhDs have emerged to work in Wales and beyond.
"And indeed the first minister has announced that innovation is the key to Wales' success - and drug discovery is the epitome of innovation.
"The second area is health, men in Wales on average live a year less than men in England and if we can get better medicines and treatment that would certainly benefit Wales.
"The third area is business. We have a number of small life sciences companies but very few big ones. What we need is more high-tech businesses.
"My work should lead to more highly skilled relatively well-paid jobs within the life sciences sector."
Prof McGuigan is leading efforts to develop the sector here. He was recently appointed by Business Minister Edwina Hart to oversee the launch of a new life sciences hub which will open in Cardiff Bay at the beginning of next year.
Further it is expected that research in life sciences at Welsh universities could be given an extra boost under a Welsh government scheme called Ser Cymru to develop research networks in three key areas.
Although no official announcement has yet been made, Prof McGuigan hopes this could lead to greater collaboration between Welsh universities in his area of expertise.
The upshot of all this according to Prof McGuigan is that it is a great time to work in the life sciences sector in Wales.
"There's never been a moment that's been as beneficial or as exciting as this," he said.
And as he glances at the big red die beside him, you get the sense that however slim the chances of making a big drug discovery are he genuinely believes the odds of a Welsh breakthrough have just got a whole lot better.
Related Internet Links
The BBC is not responsible for the content of external sites.