Two charged after Felinheli Facebook party gatecrashing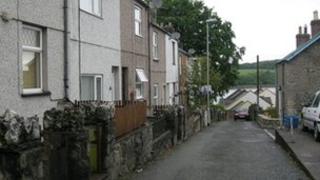 Two people have been charged after dozens of gatecrashers tried to get into a party organised on Facebook.
North Wales officers were called to the house in Y Felinheli near Bangor, Gwynedd, on Wednesday evening.
Neighbours say the main road through the village was blocked by partygoers.
The party was arranged by 18-year-old Annest Lois while her parents were away on holiday, and her grandmother warned about the dangers of organising celebrations on social media.
The grandmother, who did not wish to be named, said it was clear that the gatecrashers had heard about the party through Facebook.
Anyone organising such a celebration should be "very, very careful" before using it.
But she said nothing had been broken at the terraced house.
"Drinks were spilled on the floor but it's not trashed," she said. "My son rang the police before anything started."
Her granddaughter stressed: "All the people didn't come in. There would be no room anyway."
Neighbour John Williams said people began turning up on Wednesday evening.
"I went out at about 10 and the street was full of people. There must have been about 150 of them, and they were very boisterous," he said.
"About 10 police cars came to try to move them and things got a bit unruly and scuffles broke out."
Police said they were called to the area at about 22:00 following reports of a "large scale disturbance". They said one officer was punched and kicked but she was uninjured.
Police said six males were arrested. Two have been charged: one with causing criminal damage to a police vehicle and one with a public order offence.
A 22-year-old man has received a fixed penalty, and an 18-year-old received a caution, both over public order.