Making the arts work for the economy of Wales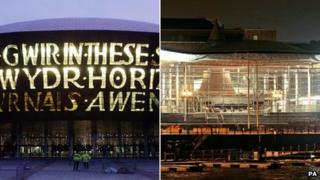 In Cardiff Bay there is a wide, tree-lined street that is closed to traffic and runs between the Welsh assembly building and the Wales Millennium Centre.
These structures that dominate the skyline of the redeveloped docks are not just neighbours but are effectively business partners.
Each year the Wales Millennium Centre (WMC) receives a £4m subsidy from the Welsh government towards its upkeep and to fund its activities.
WMC is also a home to other arts organisations including the Arts Council of Wales (ACW), Literature Wales and the National Dance Company of Wales.
They all receive annual funding from the Welsh government, which this year gave a grant of £34m to the ACW to distribute to arts organisations on its behalf.
So how does the Welsh economy benefit from that investment?
The Welsh government says approximately 20,000 people work in the wider cultural sector in Wales, which contributes around £450m to Welsh economic output.
Tourism is often cited as an additional benefit stemming from Wales' cultural offering and in 2011 visitors spent £146m on holidays where a cultural or heritage activity was the main element of their stay.
Culture Minister John Griffiths said the arts sector could also act as a selling point for Wales abroad.
He said: "We have very much linked arts and our big arts organisations like Welsh National Opera, the National Dance Company and National Theatre Wales, with our overseas trade missions.
"It's been a very important part of connecting with key markets for Wales and making sure we get that inward investment and develop our export opportunities."
Public spending cuts have already had an impact on organisations that rely on grants to fund some or all of their work.
Since the economic downturn began, ACW has reviewed and reduced the number of organisations that receive funding while some Welsh local authorities have also reduced spending on arts and cultural activities.
'Quality of life'
Mr Griffiths said: "It is a very difficult time so we have to be very clear in terms of what we will prioritise as a Welsh government.
"For me as a minister it's very important to emphasise just what the arts and culture bring to Wales. Yes, in economic and business terms, but also in terms of general quality of life."
Designer Sian Elin Thomas is one of those who made a successful business case for her fledgling company.
She creates wallpaper, cushions and greetings cards, and used funding from ACW and free business training courses to set herself up online.
She said: "I spent about six months before I actually launched my business working on all of my products and figuring out the best way to approach it in terms of how I was going to get my stuff to market.
"I also researched funding opportunities in Wales because I was coming home to Wales to start my business."
Ms Thomas sells her designs to customers around the world but uses a team of freelance sewers to stitch her items together.
Back at the Wales Millennium Centre, a balance of West End musicals and more niche productions fill the programme.
It also justifies its public subsidy by providing free performances, a creative learning programme, and by working with community groups across Wales to expose them to new cultural experiences.
But despite the public funding, a trip to WMC can still be an expensive night out.
Some tickets to see the musical Wicked next year cost as much as £75 but the centre's head of public relations, Bet Davies, insists plenty of cheaper seats mean a visit can be affordable.
"We've always been amazed that there's been no resistance to ticket prices," she said.
"Obviously it's still cheaper than the West End, you don't have to go and stay overnight in London. And even in the recession the tickets have held up.
"I think people have a bit of escapism when they come here."
Mrs Davies also said WMC acted as a national centre for creative and performing arts and that its own fund-raising scheme meant its government grant was good value.
"For every pound of subsidy we get we actually raise another £4, so it's a good return on an investment," she said.
On both sides of that tree-lined street in Cardiff Bay, the cultural organisations and the government support the principles of public funding for the arts.
The economic climate means those organisations that want funding may have to fight harder to secure it, but supporters of the state subsidy say it triggers strong financial and cultural benefits for Wales.