Care refunds deadline may be missed - Wales Audit Office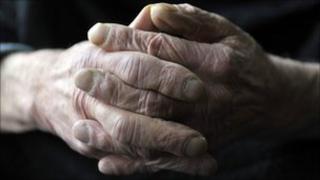 There is a "significant risk" that a deadline will be missed to settle claims by relatives trying to claw back money for social and residential care.
Continuing healthcare is a package, including care home fees, funded by the NHS, but health boards are struggling to clear a backlog of cases.
One AM says it is disgraceful so many cases are for people who have now died.
Ministers want claims made before August 2010 processed by 2014, but the Wales Audit Office says it is unlikely.
A total of 1,541 cases need to be processed by July next year which would need to be at a rate of 103 a month, but the current rate is only 37.
The Welsh government has faced criticism from campaign groups, families and solicitors for the slow pace of dealing with claims.
The chairman of the assembly's public accounts committee, Darren Millar, said it was a "quite disgraceful" situation that more than four out of five cases were being pursued by family members on behalf of relatives who have since died.
In August 2010, ministers introduced a new national framework to try to speed up the process as well as clarifying the rules under which people are eligible for continuing healthcare (CHC).
Altogether, nearly 5,500 currently qualify for this funding package. For those living at home, this means the NHS pays for health and social care costs, while it pays for fees for those in care homes.
But the WAO report points to "limited progress" in dealing with the backlog of people challenging whether their relatives should have received funding in the past. These cases date as far back as 17 years.
It said a "greater urgency" was needed to clear the backlog of retrospective claims and disputes against decisions that has built up.
The auditor general is also worried there are not enough safeguards to ensure current claims are being dealt with quickly and consistently enough by health boards.
Huw Vaughan Thomas said: "There can be significant financial implications for those who have substantial health and social care needs but are deemed ineligible to receive CHC.
"It is therefore essential that people are treated fairly and consistently when eligibility for CHC is considered."
Under the arrangements, claims dating back before 2010 are dealt with by a national project, with a deadline of July 2014 to sort out all cases.
But only 32% of claims have been resolved 21 months into the project's planned lifetime of 36 months. Claims after 2010 are handled by local health boards but they have been given no deadline.
The report questions whether health boards are investing sufficient resources in dealing with their claims, and calls on ministers to set a firm deadline for the LHBs to process cases.
Mr Millar said: "Failure to deal promptly with these claims is unfair on the individuals concerned.
"Many relate to periods dating back a number of years and it is quite disgraceful that more than four in every five cases are being pursued by family members on behalf of a relative who has died.
"The report also highlights a number of benefits that the revised framework for CHC has delivered. However, there still needs to be greater consistency and fairness in assessing people for CHC."
The costs to the NHS of continuing health care have grown rapidly in recent years from £66m in 2004/05 to £295m in 2010/11.
It fell slightly for the first time in 2011/12 to £278m but it still accounts for around 5% of total expenditure by health boards.