Conwy transport charity over-claimed £50k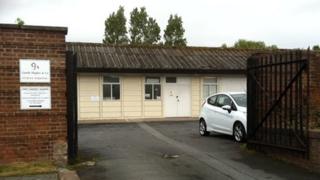 A community transport charity which helps vulnerable adults and children over-claimed more than £50,000 of taxpayers money, a report has found.
The investigation into Conwy Community Transport (CCT) discovered "serious misgivings" about the way the charity was run.
The inquiry was launched last September after the over-payments were made.
The charity said mistakes were made "in good faith", and it was working to resolve its problems.
Conwy council, which carried out the investigation with the Community Transport Association, said it had taken steps to make sure vulnerable people still have access to transport.
The charity provides a link to those who have difficulty using public transport in the Conwy council area.
It has a "dial-a-ride" service which allowed the elderly and disabled to book a car to collect them, and it also ran minibus services for groups, to take elderly residents shopping and to provide a bus service in more rural areas.
The investigation into the Llandudno Junction-based charity began in September 2012, when it was discovered that the charity had over-claimed money after doing work for the Welsh government and the council.
In total, £33,866 was over-claimed from the Welsh government, and £20,844 from Conwy council.
Sasha Davies, Conwy council's strategic director for economy and place, told councillors in a briefing that the authority had been made aware that CCT was "experiencing various difficulties".
Help offered
"A joint audit report on CCT was commissioned by the council and Community Transport Association (CTA) Wales, which found a number of serious misgivings in the organisation, both financial and governance-related," she said.
"The council and Community Transport Association Wales have been working with the CCT trustees to try to resolve the difficulties, and support them in their efforts to change their financial and governance practices."
She added that some of the services which Conwy council pays for were being carried out on a temporary basis by other operators while the CCT issues are resolved.
These include the 'Supporting People' users, home-to-school transport, and Bws Bro, a community bus service between Llandudno Junction and Denbigh.
"The council is working with CCT to try to ensure customers using other CCT services have alternative transport arrangements if necessary," added Ms Davies.
John Barton, chair of CCT, said that the over-claim was a mistake.
"It happened because of a combination of things, but it seems it was done in good faith," he said. "Nobody at CCT made personal gain from what went wrong.
"The council have given us four weeks to get everything sorted out, which is a positive step. We now have a breathing space to get everything sorted out, and go forward from here as a better organisation.
"We and the council are keen to work together for the benefit of some of the most vulnerable people in society. I believe we're now in a strong position to move forward."