Airbus creates 3,000 jobs in Filton, Broughton and Europe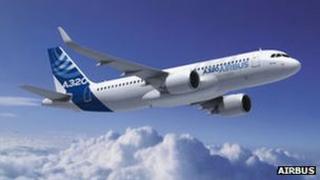 About 300 new jobs are being created by plane-maker Airbus at its plants in Flintshire and Bristol.
It is part of a Europe-wide expansion by the aircraft manufacturer which is to hire 3,000 more workers this year.
Bosses say an additional 10,000 people were taken on globally between 2011 and 2012 as its order books continued to grow.
An extra 3,000 vacancies will mainly be filled in Europe linked to Airbus' A320neo and its A350 XWB twin jet.
The wings for the A320 series are made at the Broughton factory in Flintshire.
Broughton staff also helped pioneer composite wing technology for the A350 where the £400m dedicated North Factory opened in 2011.
In March Airbus announced 50 temporary jobs were being created at its base in Filton, near Bristol, due to increasing demands for its A400M military transport plane.
It is not yet known how many jobs will be created at each of the UK plants.
More details of the company's recruitment drive are due to be announced at the International Paris Air Show later this month.