Dunbia's £12m meat plant revamp safeguards 600 jobs in Llanybydder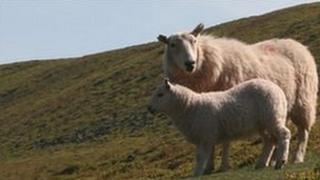 One of the largest private sector employers in rural Wales has invested £12m in its meat processing plant, safeguarding more than 600 jobs.
The revamp of Dunbia's site in Llanybydder on the Carmarthenshire-Ceredigion border makes its facilities among the most modern in the world.
The plant supplies more than 1.5 million lambs a year to markets throughout Europe.
The refurbished factory has been opened by First Minister Carwyn Jones.
The Llanybydder plant has been fitted out with state-of-the-art equipment, including more efficient refrigeration and lighting.
Other new developments include an innovative de-boning method.
Dunbia Group managing director Jim Dobson said: "I am delighted with the new facility and excited about the future for this site.
"We have always had a very strong customer base here in Wales and I am confident that with our increased capacity we will continue to grow our business further with new and existing customers."
A key customer is the supermarket chain Sainsbury's.
Its chief executive Justin King said: "The new facilities demonstrate Dunbia's strong commitment to British food and sustainability.
"Sainsbury's has been involved throughout the development of the facility which will help us meet our target of doubling our sales of British food by 2020."
'Quality product'
The Welsh meat promotions body Hybu Cig Cymru (HCC) said the investment was excellent news for the entire Welsh red meat industry.
HCC chief executive Gwyn Howells said: "This major investment by Dunbia is a clear demonstration of the faith they have in Welsh farmers and the quality of their livestock.
"It proves that here in Wales we have high standards throughout the supply chain to ensure that our meat is recognised as a quality product around the world.
"Working alongside HCC, the company has secured several business contracts in countries across the globe including Canada, Spain, the United Arab Emirates, Portugal and Italy."
The Welsh government has provided the company with a £2.71m grant towards the cost of the work.
The development follows the loss of around 310 workers at the Welsh Country Foods meat plant at Gaerwen on Anglesey in April.