Actor Rhys Ifans' wardrobe in auction for old school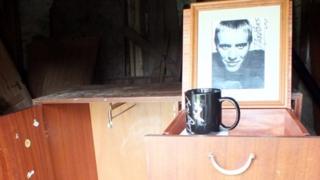 Actor Rhys Ifans has donated a wardrobe he used as a boy to a fundraising auction at the primary school where he caught the acting bug.
Ifans, 45, who grew up in Ruthin, Denbighshire, was a pupil at Ysgol Pentrecelyn, where he was cast in a number of nativity and other plays.
His breakthrough role came in the 1999 film Notting Hill, where he played Hugh Grant's lazy lodger.
Headteacher Delyth Brown said that it could become a collector's item.
Ifans has also donated a signed mug and his parents have donated signed a photograph of him for the auction in aid of road safety and IT equipment.
Another item is a signed copy of the book Anonymous, which was turned into the 2011 historical political drama starring Ifans, and posed the question "Was Shakespeare a fraud?"
Parent-Teacher Association member Delyth Gruffydd said: "It's really great that he is showing an interest, him being a past pupil."
Ifans, who more recently starred as The Lizard in The Amazing Spider Man, went to the school with his brother, Llyr, who starred alongside him in the Swansea-based comedy drama Twin Town.
Their mother, Beti, is a former teacher at the school.
She told the Daily Post newspaper: "Rhys had his first experience on the stage, taking part in nativity plays and learning to play the trumpet.
"Ysgol Pentrecelyn is very important to us as a family.
"We have lots of happy memories as it is such a tight-knit rural school which is at the heart of the local community.
"Everyone got on well then and it is still the same today."
The Welsh-medium school, with about 40 pupils, can count more than Ifans among its famous old boys.
Wales rugby star George North has donated a signed Scarlets rugby shirt.
The auction eventually raised £1,700 with Rhys Ifans' wardrobe the most expensive item selling for £200. It was bought by a woman who plans to display it in her furniture store in Ruthin.