Oxford University beckons for teen maths genius Alex Thorne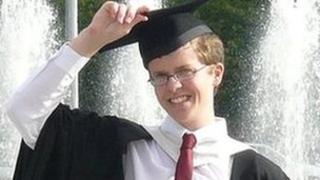 An 18-year-old maths genius has gained a masters degree and is preparing to do a PhD at Oxford University - a week before he sits his A-level exams.
Alex Thorne, from Gwaelod-y-Garth, Cardiff, gained a first class honours maths degree when he was 15, scoring 100% in two of his final exams.
Since then he has combined a research postgraduate degree with going to school to prepare for his A-levels.
He now plans to do a quantum theory PhD at St John's College, Oxford.
The teenager first showed his flair for maths at primary school, going on to gain a GCSE in the subject in his final year there aged 11.
An A grade in A-level maths - and near perfect results - came next when he was 12 while studying at Kings Monkton School in Cardiff, before he was allowed to sit in on maths lectures at Cardiff University to further his skills.
However, as he was able to keep up with the curriculum, he ended up doing a degree.
His mother Sara, who had to sit in on the lectures with him because of his age, said she does not know where the maths skills have come from as nobody in the family has a flair for the subject.
She said she found the university maths course "a blur", and that she, her husband and their other two sons, were all stronger at subjects like English and history.
"I hope we weren't pushy parents - we were just trying to fulfil a need he had and he was clearly very unhappy at primary school. At times he was very miserable," she said.
"He could do everything and his teachers have always been brilliant at giving him extra to do.
"But it wasn't fulfilling him. He needed to be taught new things."
Mrs Thorne said she and her husband insisted that their son continue going to school in between his university studies, to ensure he kept in touch with friends of his own age.
'Normal teenager'
As a result, just weeks after gaining a master of philosophy (MPhil), Alex will sit another three A-levels next week in biology, chemistry and Latin. He also has a physics A-levels which he gained when he was 15.
The student said he had found his masters degree - in which he researched the laws of gravity - very difficult and time consuming, meaning he only has two weeks to prepare for his school exams.
But he has already been accepted at Oxford, where he again will be studying with students older than him.
"It's going to be interesting as I'm going to have to bridge the gap between two social groups - the first years who I will be living with and the PhD students I'll be studying with," he said.
"So that might be a challenge."
In the future, Alex is considering going into academia, although he is still keeping his options open.
But he insists that despite his success, he is still a normal teenager who likes to go out with his friends and play computer games.
"I would say my friends treat me the same, although it might have been quite of a shock at first," he added.
"But they have got used to it now."
His mother said: "We are a bit overwhelmed by Alex's achievements. But he's so matter-of-fact about it all that we have started taking it a bit for granted."