High streets will die without action says retail expert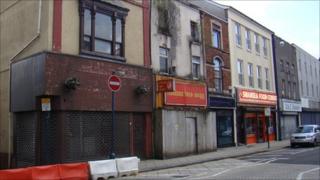 As shop vacancy rates soar and some town centres are in decline, a business expert has warned high streets will die if nothing is done.
Wales already has more empty shops than England or Scotland and there are few signs of the gloom lifting.
Internet shopping and a flat-lining economy have been blamed.
Chris Parry, of Cardiff Metropolitan University, said the situation was at "tipping point".
Since the credit crunch in 2008, the high street has struggled in the wake of the economic downturn. But retail experts say town centres can still be saved with a dose of imagination.
Mr Parry, a senior lecturer in the university's accounting, economics and finance department, said: "I think we're at a major tipping point.
"It's rather like the Siberian tiger. We realise it's on the cusp of extinction and because it's pretty we contribute £3 a month to save it.
"Without taking action as they are now they will just disappear. They can't survive unaided.
"If we do nothing it will die."
Research on the number of empty shops has painted a bleak picture around Wales with towns and cities such as Llanelli, Swansea, Bangor and Newport all suffering from high vacancy rates.
But it is a complex picture with some - such as Penarth near Cardiff and Tenby - having few empty stores.
'Big problem'
Matthew Hopkinson, director of the Local Data Company, which compiles the figures, said: "Nationally, Wales is faring the worst looking at vacancy rates. That's the bad news but there is polarisation.
"You've got places like Swansea which has been struggling, Newport which is the worst of the worst because of its proximity to Cardiff and across the Severn Bridge to [the shopping centre] Cribbs Causeway and [new Bristol shopping centre] Cabot Circus. They've got a big problem.
"But Penarth, Tenby, Monmouth, Port Talbot, Blackwood, Cardiff, Mold, Aberystwyth - they're all doing all right."
The difficulty of turning town centres around was highlighted recently when 10 of 12 towns in a UK government scheme in England - backed by retail guru Mary Portas - saw a fall in the number of occupied retail units.
In Wales the assembly's enterprise committee said earlier this year that many high streets were flagging and needed strong leadership from the Welsh government.
Experts say there is no single magic formula but they all seem to agree it is vital for town centres to offer more than just chain stores.
"It's not just about shops - leisure and services are the key," said Mr Hopkinson.
"The 'dwell time' typically in a large urban shopping centre is three to four hours and you need to emulate that. It's a place where people want to go out."
The idea is to provide somewhere pleasant to hang out with friends where you can enjoy a bite to eat, a coffee and maybe a film.
There will still be shops, but they will probably include independent specialist shops with friendly staff who know all about the products they are selling.
But for Mr Parry even those desirable ingredients might not be enough on their own.
He acknowledges the crucial role of leisure but also believes town centres need people living in them to help create a thriving, vibrant environment.
"Then you have to have tenants in those shops who serve the people living there," said Mr Parry.
"So [you need] the more bespoke, more service-orientated, more luxury or niche shops.
"If you want a nice plush apartment in a refurbished high street, having a Next or Wetherspoon next door is not what you want.
He said instead, new urban dwellers would benefit more from specialist independent shops "making jewellery, dress design, tailor-made suits, focusing on service and quality".
But he said there was no one-size-fits-all approach, and this method may not necessarily succeed in, for example, a former industrial town such as Pontypridd.
Gianni Orsi, former chair of Pontypridd Chamber of Trade who runs two cafes in the town, favours a more back-to-basics approach starting with free or cheap car parking.
"Pontypridd, you've got to remember, is where people would come for a bargain, come to the market," he said.
"Our traditional shopper is not your Cowbridge [affluent Vale of Glamorgan town] ABC set, it's your XYZs and there's nothing wrong with that.
"We need to compete with the other towns and the out-of-town shopping."