Measles epidemic: 'Slowing but more still need MMR jab'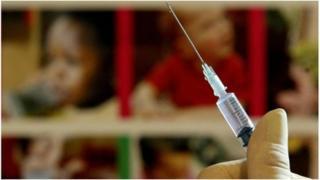 The Swansea measles epidemic is slowing down but too few young people are protected against the disease to stop more large outbreaks, medics say.
Six new cases were reported since Tuesday, according to Public Health Wales (PHW).
It takes the number of measles cases in the outbreak centred on Swansea since November to 1,158.
In the last week, almost 2,500 non-routine measles, mumps and rubella (MMR) jabs were given at GP surgeries.
More than 60,000 vaccinations have now been given in total aimed at reducing the length and severity of the outbreak in the Swansea and Powys areas.
Despite this, PHW said large numbers of people aged 10-18 years still have not had a jab which could prevent them from contracting measles, a highly contagious and potentially fatal disease.
Health protection director Dr Marion Lyons said: "The outbreak centred on Swansea has slowed significantly, but parents should not believe this is the last we will see of measles in Wales if large numbers remain unvaccinated.
"This outbreak has shown us how quickly measles can spread between people who are not vaccinated and how serious an infection it can be.
"While we have tens of thousands of people between 10 and 18 not vaccinated, who continue to mix with one another at school and at social events, we can't rule out another large outbreak in the coming months or years.
"The message remains that measles can be extremely serious and anyone not fully vaccinated is at risk. If you are not vaccinated, now is the time to contact your GP."
GP surgeries are continuing to give the MMR vaccine to people who need a first or top-up dose but there are no plans for further drop-in sessions at hospitals across the region.
Vaccination sessions at schools ended last Friday.
Wales saw only 19 measles cases in 2011.