April Jones case: Jury resumes deliberations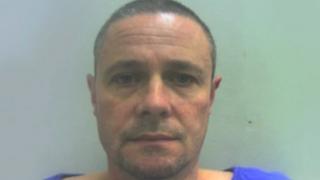 A jury has resumed its deliberations in the case of a man accused of murdering five-year-old April Jones in a sexually motivated attack.
Mark Bridger, 47, of Ceinws, Powys, denies abducting and murdering five-year-old April, who went missing near her Machynlleth home on 1 October 2012.
He told Mold Crown Court he accidentally ran her over with his car but the prosecution says he murdered her and lied to cover it up.
Her body has never been found.
Jurors resumed their deliberations shortly after 10:00 BST on Thursday with April's parents once again in court, this time joined by other family members.
The jury had retired at 13:54 the previous day and was sent home at 16:15 with the judge telling jurors they must not "under any circumstances" discuss the case, even among themselves.
Mr Bridger claims he knocked down April - who had mild cerebral palsy - with his Land Rover Discovery and cannot remember what he did with her body after drinking heavily.
The prosecution says he murdered her and disposed of her body in such a way that the largest police search in UK history has been unable to find her.
The court has heard April's blood was found in several locations at his home and fragments from a human skull were in his fire.
On Wednesday, the judge continued his summing up of the case before the jury retired.
He went through the prosecution case first referring to the evidence of the seven-year-old friend April was playing with when she went missing.
"April was talking to a man who was standing between the Land Rover and the BT van... she could see their mouths moving," the judge said.
"She said the man got out of the Land Rover... it was as if he was waiting for someone... she said she didn't know why April wanted to go... but April got in through the driver's door."
He went on to remind the jury there was nothing to indicate anyone had been run over by Mr Bridger's vehicle. Similarly, no evidence of a collision was found on the bicycle April was riding.
Later, running through the defence team's evidence, the judge described how Mr Bridger said he had tried to drive away but his vehicle rose up and he saw a child "who was limp".
He had remembered checking April's chest and pulse but there was no response.
The judge said the defendant claimed he later "panicked" and had no recollection of getting back to his cottage.
Mr Bridger also denies intending to pervert the course of justice.
The case continues.