Measles epidemic: Final drop-in MMR clinics held in Brecon and Newtown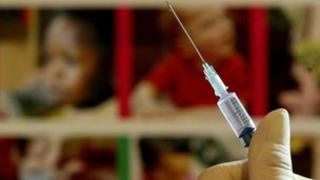 The last drop-in MMR vaccination clinic has been held on Saturday as figures in the Swansea measles epidemic suggest a slowing down of new cases.
Public Health Wales warns 33,000 children and young people aged 10 to 18 have still not had the jab.
Over 60,000 measles vaccinations have now been given aimed at reducing the length and severity of the outbreak in Swansea and Powys.
Jabs will still be available through GP surgeries.
The number of cases in the outbreak have reached 1,136 since November 2012, up 10 cases in the last few days.
There were only 19 measles cases in Wales in the whole of 2011.
Vaccination sessions held in all secondary schools and some primary schools across Wales ended on Friday.
Public Health Wales said 8,618 people had been vaccinated at these sessions.
Last drop-in sessions
In Powys, two drop-in sessions were held on Saturday at the outpatients departments of Brecon and Newtown hospitals.
Epidemiologist Dr Meirion Evans said the there was still a long way to go before the outbreak, which began in the Swansea area, is over despite the number of new cases falling sharply.
"I think the speed at which the numbers have dropped is a reflection on the fact so many children have been immunised," he told BBC Radio Wales.
"We're pleased with the uptake of the MMR vaccine and the impact that's had on numbers (of measles cases).
"There are still concerns it might pop up elsewhere."
Dr Evans said there had been a "flurry of cases in Gwent" that also seems to be coming under control.
"We have half term week next week which will help things along because of course there's less contact between children in school holiday."
He added that health experts had been focusing on the Urdd Eisteddfod next week where thousands of children will get together, because "that's one possibility where measles could spread".
"We've asked those parent to make absolutely sure their children have had their MMR if they are going along to that," he added.