Tesco 150 Magor distribution job cuts 'not compulsory'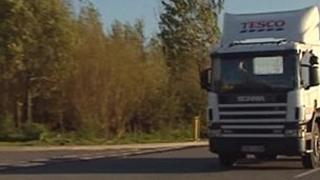 Up to 150 job losses at the Tesco distribution centre at Magor in Monmouthshire will not involve compulsory redundancy, the firm says.
The supermarket group said a 90-day consultation with unions had led to some staff taking voluntary redundancy while others have agreed to relocate.
It announced the job losses at the site, employs 800, in February.
Some of the staff have taken jobs at new distribution centres in Reading and Dagenham.
The shop workers union Usdaw had described the decision as "absolutely devastating".
A Tesco spokesperson said: "We are pleased that our consultation with colleagues and Usdaw at Magor has come to a positive conclusion, with no colleagues facing compulsory redundancy."
An Usdaw spokesperson said: "Whilst any redundancy announcement is disappointing it is no doubt a relief for the staff that this particular one has been resolved through volunteers and that there will be no compulsory redundancies."