Measles epidemic: 60,000 have MMR jab in Swansea and Powys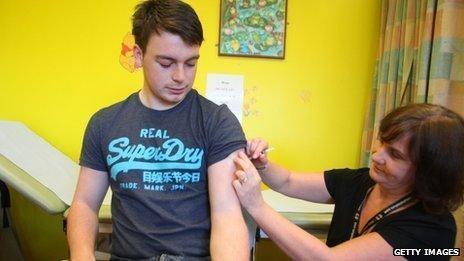 Over 60,000 measles vaccinations have now been given which will help to reduce the length and severity of the outbreak in Swansea and Powys, says Public Health Wales.
However, another 33,000 youngsters between 10 and 18 have still not had the jab, say officials.
The number of cases in the outbreak has now reached 1,136 since November 2012, up 10 cases in the last few days.
There were only 19 measles cases in Wales in the whole of 2011.
"We are delighted to see that thanks to the efforts of health board staff and the efforts of parents, the number vaccinated with MMR has now passed 60,000," said health protection director Dr Marion Lyons from Public Health Wales (PHW).
"This will undoubtedly have helped to reduce the length and severity of the current outbreak - but we remain concerned for the 33,000 children aged 10 to 18 who remain unvaccinated.
"There will always be the possibility of measles outbreaks elsewhere in Wales until we reduce the numbers of unvaccinated people."
In all, almost 61,500 non-routine vaccinations have been given since 1 March.
This includes 17,440 people aged 10 to 18 who are said to be the group hardest hit by the measles outbreak centred on the Swansea area.
This week sees the final opportunities for people to be vaccinated at drop-in clinics and in school sessions, although jabs will still be available through GP surgeries.
There will be a final drop-in session at the Princess of Wales Hospital, Bridgend on Thursday from 18:00 to 21:00 BST.
In Powys, two drop-in sessions will be held at the outpatients' departments of Brecon Hospital and Newtown Hospital on Saturday between 10:30 to 14:30 BST.
Related Internet Links
The BBC is not responsible for the content of external sites.