Ambulance service faces extra targets for performance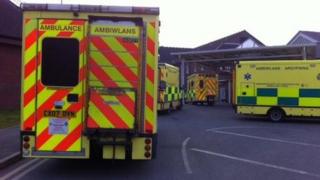 Additional ways of measuring the Welsh Ambulance Service's performance are to be published from July.
It follows a review for the Welsh government which recommended big changes to the way the service is run.
It failed to meet targets for life-threatening call responses in every local authority area in March, saying adverse weather meant extra pressures.
Ministers have indicated they will make some firm decisions on the service's structure and management in July.
The review, commissioned by the Welsh government and carried out by health academic Prof Siobhan McLelland, called for a revamp of performance targets.
'Wider spectrum'
In a written statement Health Minister Mark Drakeford said: "To achieve greater transparency and to provide a more holistic view of unscheduled care delivery, I have agreed that WAST (Welsh Ambulance Service Trust) and LHBs (local health boards) should publish a range of additional monthly information from July 2013.
"The Welsh government will also publish data on a wider spectrum of response times and officials are working with WAST to consider how soon this can be achieved."
He added that the eight minute target for responding to life-threatening calls should remain in place, partly to allow comparisons with other UK nations, but it should not be the only measure of ambulance performance.
"During the rest of this year, officials will work with the ambulance service and other parts of the NHS to develop a new set of indicators that provide an intelligent suite of clinically informed targets and standards," he said.
Mr Drakeford said the Welsh government was working towards implementing other recommendations in the review, including the call for paramedics to be given more training to make decisions about patient care.
'Over-stretched'
The Welsh Conservatives welcomed the plans, and promised to carefully monitor their implementation.
Health spokesman Darren Millar said: "It's important that this thirteenth review in seven years is the last.
"History must not repeat itself and the changes made must deliver a step change in our over-stretched and under-performing ambulance service."