Group's idea for Guggenheim museum for Wales ruled out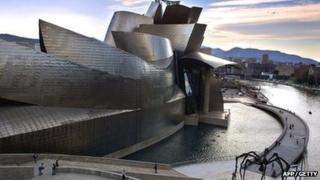 Proposals to bring a Guggenheim museum to Wales in a bid to replicate the success of the iconic art gallery in Bilbao in Spain have been ruled out.
The group behind the idea say the museum could transform Wales to an international cultural destination.
The idea came after a plan to open a Guggenheim in Helsinki fell through.
There are four of the museums around the world and one in development. But the Guggenheim Foundation has now ruled out a similar venture in Wales.
The foundation told BBC Wales it had not and would not be in discussions with Wales about a museum.
Former MP Adam Price, who will present the idea in a public talk, said earlier this week the thought of trying to bring a Guggenheim museum to Wales came a year ago after Finland's capital Helsinki rejected a feasibility study it had earlier commissioned from the foundation about opening a centre there.
Possible locations for a museum included Cardiff, Swansea and Pembrokeshire.
Mr Price and other political and cultural figures including Lord Dafydd Wigley, Tony Jones, emeritus chancellor of the School of the Art Institute of Chicago, and Visiting Arts chief executive Yvette Vaughan-Jones, have taken the idea forward and had early consultations with Welsh ministers.
Public engagement
He told BBC News: "That decision [by Helsinki] created an opportunity and it's really that which was the spark for me beginning to think and discuss with others.
"We have made contact with Guggenheim. We hope to go out and see them fairly shortly if possible.
"I think we felt that actually learning from the Helsinki experience, it was very important that there was an early public engagement with the idea.
"One of the reasons it was rejected in Helsinki [was] partly tied to the economy, but it was also a feeling within some of the artistic communities that this wasn't necessary.
"I think it's really important that we in Wales decide if it's important for us."
Funding for the cost of building the museum would have to come from public or private funds, but the Guggenheim Foundation provide access to their management in terms of programming and their exhibitions.
Industrial centre
Mr Price said the philanthropy model of giving by rich individuals was more prevalent in the United States, but added: "There are one or two Welsh billionaires out there who may be looking for a legacy, and I can't think of a better legacy than bringing a Guggenheim to Wales."
He suggested the earliest date any museum could open would be around 2019 or 2020 which would fit in with the current timetable for the electrification of the south Wales rail line, adding: "This is one of the tools we could deploy to boost visitor numbers to Wales."
The original Guggenheim museum in New York has been joined by ones in Venice, Berlin and Bilbao, with another in Abu Dhabi in development.
The Bilbao museum, designed by Frank Gehry and opened in 1997, was credited with transforming the city from an industrial centre to a cultural destination bringing millions of tourists to the site.
In 2012, activities of the museum in Bilbao helped generate 294.6m euros (£252m) in GDP for Spain, according to a report by the foundation.