Measles: Cases in Swansea and Powys reach 1,125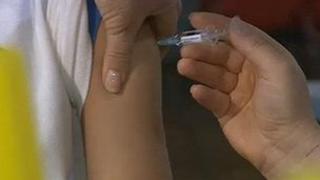 The number of measles cases in Swansea and Powys has risen by 20, bringing the total to 1,125, public health officials have said.
Since November 2012, there have been 1,325 diagnoses throughout Wales.
Public Health Wales (PHW) expressed concern over the figures in what is the final week of MMR (measles, mumps, rubella) school vaccination clinics across Wales.
More than 50,000 people have being vaccinated over the last two months.
Dr Marion Lyons, director of health protection for Public Health Wales, said: "This is the final week that children in schools across Wales will be offered the MMR vaccination, so parents whose children have not yet been fully vaccinated with two doses of MMR are reminded to complete the consent form to ensure the vaccine can be given."
Children over 16 can have the vaccination without needing their parents' permission, she said.
Dr Lyons added: "The MMR is also available through GP surgeries, and more than 3,500 doses of MMR have been given in Welsh GP surgeries in the last seven days, which is a great sign that people are still coming forward for the vaccination.
"But those who would prefer to attend a school session rather than make a GP appointment are reminded that this is the last week they will be taking place, so now is the time to act."
Powys Teaching Health Board said MMR drop-in sessions would be held at Brecon and Newtown hospitals on Saturday 25 May between 10:30 and 14:30 BST.
More than 50,000 people have being vaccinated over the last two months.
But fewer than a third of these vaccinations were given to people between 10 and 18 - the age group hardest hit by the outbreak.
The data provided by PHW is of notifications of measles reported by doctors who have diagnosed a patient from clinical symptoms and have not necessarily been confirmed by laboratory testing.