Milk: Legislation threat if dairy code fails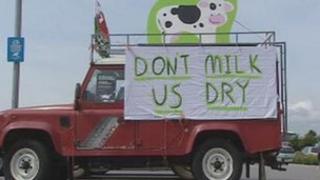 Legislation binding contracts between dairy farmers and milk processors must be drawn up if a voluntary code of practice fails, say MPs.
The Welsh affairs committee said an estimated 85% of British milk was bound by the voluntary code agreed between processors and farmers.
It followed protests last summer by milk producers from around the UK over falling prices.
NFU Cymru said the code was working at the moment.
Farming leaders and processors agreed the code last September.
Processors must allow 30 days' notice of a cut to a farmer's price or other significant changes to contractual terms.
Farmers can also terminate their contract with processors on three months' notice if they disagree with a proposed price cut or significant change to contractual terms. Previously, they had to give a year's notice.
The code also encourages processors to engage with producers via democratically accountable and representative producer groups.
"The new voluntary code of practice is an important step forward to redress the balance in the contractual relationship between dairy producer and purchaser," said the Welsh affairs committee report.
"All dairy processors who have not yet signed the voluntary code should do so.
"The code must be given time to work. The UK government should set out precisely when and how it intends to measure the success or failure of the voluntary code.
"Should the voluntary code fail in its objectives, the UK government must legislate for a statutory code of contracts in the dairy industry.
"The committee prefers such a measure to be taken in co-operation with the Welsh government, in the spirit of the joint working that has taken place since the summer 2012 crisis."
Milk price pressures came to a head last summer.
A combination of depressed markets for products like cream, poor weather during the winter of 2011-12 and high forage and feed costs meant that, by the first quarter of 2012, the average farm gate price of milk was 28.6p per litre (ppl) while the average cost of production was 30ppl.
Then in May and June dairy processors - including Dairy Crest, Robert Wiseman, Arla and Müller - announced price cuts to dairy producers of about 2ppl, to a low of 26.4ppl.
A further blow came when some processors announced additional price cuts of 2ppl from 1 August, but following protests this was scrapped.
Farmers are now being paid about 30ppl for producing milk, says Stephen James, deputy president of NFU Cymru.
"The majority of processors have signed up to the voluntary code, but there are some who haven't," added Mr James, who farms near Narberth in Pembrokeshire.
"If there was a government threat to introduce legislation it would speed up the process of more processors signing the voluntary code."
Mr James said farmers, who were still deserting the industry, would prefer a statutory code of contracts but it would take time to get the legislation through parliament.