Arrests of primary schoolchildren in Wales in big fall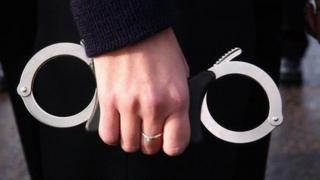 Campaigners have welcomed a big drop in the number of primary school children being arrested in Wales.
The number of 10 and 11-year-olds arrested fell from 361 in 2008 to 75 in 2012, BBC Wales-compiled figures show.
Suggested reasons include changes to police targets, better youth support services and even children spending time on social media like Facebook.
However, the Howard League for Penal Reform said the age of criminal responsibility was still too young.
The league's Mark Gettleson told the BBC Wales News website: "Our general view is that this reduction in arrests across England and Wales in the last five years has been hugely welcome, in particular [police] using their discretion to deal with children in a more appropriate way.
"They're perhaps being a nuisance and need a helping hand some of the time rather than arresting them and dragging them into a criminal justice system that too many find difficult to leave."
He said the main reason for the drop was a change to the target-led approach to policing.
"Before, the police were constrained by targets. Arresting people that were easier to arrest was something they were more likely to do," he said.
"Now they can use discretion. Everyone's a winner."
Recent figures from the league also suggest the number of children of all ages being arrested has fallen substantially over recent years.
But the charity is still concerned the age of criminal responsibility in Wales and England is too low at 10 years old.
It means children aged 10 and above - among the lowest in Europe - can be arrested and taken to court if they commit a crime, although they are treated differently to adults.
Mr Gettleson said: "There's an international recommendation the age of criminal responsibility should be 16. It's 14 in a number of other European countries.
"We have one of the lowest levels. You can't buy goldfish until you are 16, you can't be fined for refusing to wear a seatbelt until you are 14.
"The idea you can be arrested and convicted of criminal offences aged 10 is ridiculous."
But experts admit it is a difficult policy for politicians to sell, has met opposition when discussed, and there are other pitfalls.
Prof Kevin Haines, director of Swansea University's Centre for Criminal Justice and Criminology, warned that now was perhaps not the ideal time to make such a change because of the difficult economic situation.
"If we were to do it at a time of austerity, the services that affect children would be cut," he said. "[What] if the good work that's being done is withdrawn because the age of criminal responsibility is raised?
"Young people need services and need to be engaged in positive things. If that's lost then we're actually cutting off our nose to spite our faces."
Prof Haines said the fall in offending rates had been experienced across the western world but the reasons were not entirely clear.
He said police targets had previously led to artificially high offending rates among children but added there were other theories.
One interesting idea is that children are now committing less crime because they would rather spend their time on Facebook or Twitter.
"It has been said that the rise of social media is having some sort of an effect," he said.
Positive effect
"Is there any research on that? No. Would I want to put my name on that? Probably not."
Prof Haines also pointed to local projects which use restorative justice to keep children out of the criminal system. Research suggests this can have a positive effect.
He has helped pioneer the the Swansea Bureau, a partnership involving police, Swansea council's youth offending service and Swansea University which is aimed at stopping youngsters from breaking the law a second time.
"There is a response but it's predicated on the fact they're children. It has steepened the decline of apparent offending," he said.
It is not just Swansea where the number of offences committed by young children is falling, it is a pattern across Wales, as the figures obtained by BBC Wales show.
The largest drop in the numbers of arrested primary school children was in the North Wales Police area with a fall from 149 in 2008 - higher than the whole of Wales now - to just 18 in 2012.
The force said its approach was "having a positive impact".
Insp Julie Sheard said: "Several factors have contributed towards this reduction.
"Effective partnership working between North Wales Police and the Youth Justice Service, the continued use of restorative resolutions and other out-of-court disposals that often remove the need to arrest a young person, as well as early interventions when young people first come to our attention.
"This in turn reduces the number of young people entering the criminal justice system."
In the Dyfed-Powys Police area, the number of 10 and 11-year-olds arrested fell from 92 in 2008 to 14 last year; South Wales Police totals dropped from 94 to 27; and Gwent Police figures dropped from 26 to 16.