Badger cull v vaccines in Wales and England TB fight
In a few weeks' time the government in England will press ahead with trials of badger culls in parts of Gloucestershire and Somerset as part of its strategy to eradicate TB in cattle.
In the selected areas farmers have been licensed to shoot badgers over a six week period sometime after 1 June.
Those carrying out the cull have been set a target of reducing the local badger population by 70% which, previous culls suggest, could reduce cattle in TB by at least 16% over the long term.
The policy is in marked contrast to the one pursued by the Welsh government, which has just embarked on the second year of a badger vaccination programme in a disease hotspot in north Pembrokeshire.
Badgers and cattle are both susceptible to TB and it is widely believed that to eradicate the disease in cattle it must also be tackled in the wildlife population.
But any consensus breaks down on whether culling or vaccinating badgers is the best way to do that.
The BBC Radio Wales current affairs series Eye on Wales has been talking to both sides of the debate on either side of the border.
STEPHEN JAMES
NFU Cymru's TB spokesman, he farms 500 dairy cattle in Pembrokeshire, close to the Intensive Action Area where the Welsh government has recently resumed catching and vaccinating badgers.
"It's ridiculous really to go and try and cure something, when they know that there's significant disease in there, at a cost of £620 a badger annually. [Last year] they spent a million pounds in less than 300 sq km (115 sq miles).
"That's a very expensive way of trying to control this disease when we know full well, from experience from other countries, that there are cheaper ways of doing it."
"We feel that if you vaccinate in the clean areas, around the edges of the endemic areas, then there's a better chance of it working."
STEVE CLARK
Lives in Chepstow. A director of the Badger Trust national charity.
"Vaccination has been proved in studies to have an impact on the spread of TB amongst badgers.
"The vaccine is obviously looking to protect clean animals, but it also reduces the bacilli that is excreted by infected badgers. It doesn't cure them, but it reduces the possibility of any further infection.
"No vaccine is 100% effective but we're talking in the region of a 75% level of protection.
"When that size of the population is being protected then the chances of picking up the disease are very slim.
"The life span of a badger is about five years.
"So if you continue the vaccination project for five years, then the majority of animals that were there at the beginning will have died out and that vaccination programme is leading towards a clean and healthy badger population."
TONY DEAN
Chairman of the Gloucestershire Badger Group.
"You have got to be a good marksman to kill a badger outright, with one shot. It's got to be a high-velocity deer-stalking type of rifle with one bullet.
"That bullet has got to hit the mark first time.
"Many of the badgers will be badly injured. They will go back underground after being shot, probably badly maimed. They will die a long lingering death underground from lead poisoning etc.
"We are going to have a lot of cubs left underground where their mothers have been shot above ground.
"This is a well-known area for holidaymakers - they could be in fear of being shot.
"Dogs, cats, black and white dogs [could be mistaken for badgers] - these men have to be very good marksmen to do the job properly."
JAN ROWE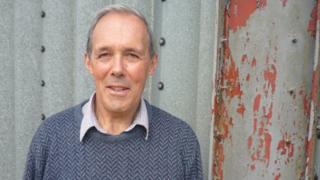 The NFU's TB spokesman, he has a beef and arable farm near Cheltenham, Gloucestershire. He is also a nominal director of Gloscon, the company set up by local farmers to employ contractors to carry out the cull in the west of Gloucestershire.
"I would expect to see a reduction of TB in our cull area - certainly by year three and four - of something like 60 or 70% - not the 16% that is being talked about.
"I have no worries at all about the safety of the cull. All these contractors that are doing the job have undergone thorough training.
"They know that safety is absolutely the number one condition that they operate under. If there's any sign of danger or risk of anything, they won't take a shot.
"They have shown their competence through demonstrated target practice.
"They know the physiology of badgers; they know where they have got to be aiming. They do this with foxes and other animals and do it quite cleanly.
"Every form of culling every animal is open to an element of welfare distress on occasion, but the aim is always to keep that to an absolute minimum."
Eye on Wales is on BBC Radio Wales at 13.30 BST on Sunday, 19 May and can be heard on the BBC iPlayer for seven days.