Unemployment in Wales falls by 6,000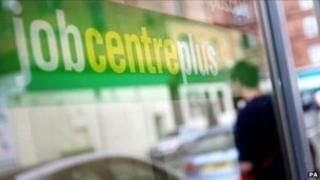 A second consecutive monthly fall in jobless figures in Wales has been greeted as a "clear sign of growth" by Welsh Secretary David Jones.
Unemployment for the three months to the end of March fell by 6,000 on the previous quarter and by 12,000 compared to the same period last year.
Unemployment now stands at 121,000, a rate of 8.2%, according to the Office for National Statistics (ONS).
Mr Jones said business was increasingly positive.
But he warned "it would be foolhardy to suggest that the hard work is over".
Mr Jones said: "I know from talking to businesses across Wales that they are increasingly optimistic about the future and I think this is shown in today's rise of 16,000 more people in employment.
"I am confident that measures being put in place by the UK government, such as the National Insurance Contributions Bill, will further benefit Welsh companies by creating a more favourable economic climate in which they can do business."
The bill will exempt employers from the first £2,000 of their National Insurance payments in an effort to support jobs and help small businesses.
The jobless figures for April had showed a 3,000 fall, again over a three month period.
'Real action'
Despite the further reduction in May, Plaid Cymru economy spokesman Alun Ffred Jones said at 8.2% the unemployment rate was still far higher in Wales than the UK average - 7.8%.
"There are still 50,000 more people unemployed in Wales than there were before the recession and we continue to urge the Welsh government to take real action to get to grips with this problem," he said.
Mr Jones called for capital investment projects, more help for small businesses and for government spending to be used "more wisely" to encourage job creation.
Federation of Small Businesses in Wales said it was very positive news.
The chair of its Welsh policy unit Janet Jones added: "The past month has been particularly difficult for the large business sector in Wales, with 430 job losses as a result of the administration of Rowecord, and the £1bn write-down in the value of Tata Steel's European operations.
"If we are to see unemployment continue to fall we need to ensure that small businesses are able to create jobs to replace those lost elsewhere."
UK unemployment has risen to 2.52 million, the ONS has said.
Figures showed 15,000 more people were unemployed in the three months to the end of March.