Hospital blunders: 'Should never happen' list revealed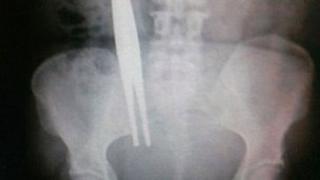 Surgical instruments left inside patients and operations on the wrong parts of the body have been revealed among the avoidable mistakes made by Welsh hospitals in the last four years.
A Freedom of Information request shows 24 NHS "never events" in Wales.
It refers to incidents so serious they should never happen.
Welsh Lib Dem leader Kirsty Williams called for lessons to be learnt while the Welsh government said all such events should be fully investigated.
There were 10 cases of objects left inside the body and eight operations on the wrong part of the body.
Tubes were mistakenly inserted into people's lungs on five occasions.
"While I understand that mistakes are made in our health service, it is particularly important that the NHS learns from its mistakes that are on this scale," said Ms Williams.
"'Never events' are very serious incidents in the NHS that are preventable because guidance has already been issued to explain how risks and harm could be prevented.
"It is quite disconcerting that we still see incidents where plastic tubes and hypodermic needles are left in the patient after an operation or a procedure has been carried out on the wrong part of the body."
According to the figures, half of the serious incidents occurred under the Cardiff and Vale University Health Board.
They included an incision on the right hand side of a patient's skull which should have been carried out on the left.
Other instances saw a right side implant being inserted into a left leg at Cwm Taf Health Board in 2011 and an Abertawe Bro Morgannwg operation on the wrong finger in 2010.
Ms Williams added: "I can appreciate that 24 events in four years does not seem all that serious, but when the NHS labels them as 'never events' we shouldn't be seeing any cases of this severity at all."
A Welsh government spokesperson said: "Every year, thousands of patients receive high quality, safe and effective treatment but we have to recognise that in a modern health system - where increasingly complicated procedures are being undertaken - very rarely, things do not go as well as we would wish.
"We expect NHS organisations in Wales to be open and report 'never events' as well as other patient safety incidents.
"In doing so, we can learn lessons and reduce the risk of them happening again. We expect all 'never events' and serious patient safety incidents to be thoroughly investigated by NHS organisations."
A spokeswoman for Betsi Cadwaladr University Health Board said: "We have taken positive steps to thoroughly investigate these incidents.
"Ways to improve our practices were identified which resulted in the tightening of procedures, reinforcing the need to follow good practice when delivering clinical care and providing ongoing training and education for our staff."
In England, more than 750 patients suffered after preventable mistakes at NHS hospitals over the past four years.