Foster children moved too often, says Fostering Network Wales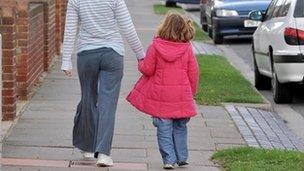 Children are being moved too many times between foster homes because of a shortage of carers, according to a survey.
Fostering Network Wales said in the last two years 59% of foster parents have looked after children who have had one to two moves between homes.
It said more than 600 foster families are needed in Wales in the next year.
The Welsh government said it is committed to helping foster carers and protecting vulnerable children.
The survey also found that two in five (39%) foster carers have looked after at least one child who has been moved four or more times.
And one in five (20%) have cared for children who have had seven or more moves before living with them.
"Some of the results from this survey are very worrying," said Freda Lewis, director of Fostering Network Wales.
"Children who come into care have usually had traumatic experiences in their lives and have often suffered abuse or neglect.
"They need a stable and loving home to help them turn their lives around."
The Fostering Network's warning comes at the start of Foster Care Fortnight which runs until 26 May.
Last December the charity said the number of children needing foster care in Wales had risen to an all-time high of about 4,400.
At that time the Welsh government said it recognised the need for continued investment and support for foster carers and that it was working with partners to recruit and retain the numbers of carers needed.
Related Internet Links
The BBC is not responsible for the content of external sites.