Urban Birds by Arlene Sierra wins £20,000 commission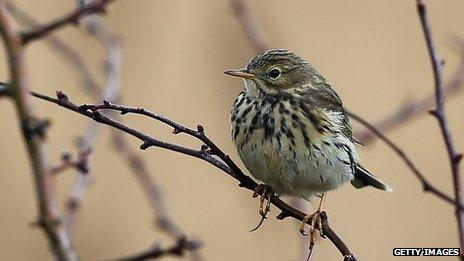 A new composition using birdsong from Wales has won £20,000 in funding for a major showcase coinciding with the Commonwealth Games.
Cardiff University composer Dr Arlene Sierra has secured the backing from the PRS for Music Foundation.
Her piece Urban Birds will be performed as part of the New Music Biennial which will be held in London and Glasgow next year.
The performances will also be broadcast on BBC Radio 3.
"Urban Birds is a piece that juxtaposes natural and electronic sources in an extended pianistic sound world showcasing three formidable soloists," explained the American composer, who is a senior lecturer at Cardiff University's School of Music.
"The work will engage musically with one of the central preoccupations of our time: our relationship with the natural world."
The digital recordings of birdsong will be backed by performances from three of the world's best experimental pianists, Sarah Nicolls of London, Kathleen Supove from New York, and Xenia Pestova, who lives in Bangor, Gwynedd.
The work has been commissioned by the INTER/actions Festival of Interactive Electronic Music, which is part of Bangor University's School of Music in Gwynedd.
The concept has been cheered on by Welsh wildlife expert Iolo Williams, who said: "It's such a great concept, that I can't believe no-one's done it before.
"Come to that, I can't believe I haven't done it before."
'Minor notes of melancholy'
With his own special ear for birdsong from Wales, Williams, the presenter of programmes such as Wild Wales and Iolo's Welsh Safari, has his own suggestions for what he would want to hear.
"The first thing I'd do is to make sure they were all birds native to Wales, and that they were all recorded especially in their natural habitat," he said.
"The chorus would have to be made up of warbling blackcaps. The minor notes of melancholy have to come from a robin - juxtaposed with the happy chirruping of the blackbird."
"To top it off you could have the solo of a soaring skylark and the intermittent chime of a cuckoo - only cutting in now and again to remind you of their fleeting visits to Wales."
Though Williams looks forward to hearing the composition, he said he feared that in future people will have to increasingly rely on projects like this to hear Welsh native birds.
"Even out in the country where I live, the dawn chorus is nothing like it was just five years ago," he added.
"The loss of hedgerow habitat and the first effects of climate change are having a quicker impact than anyone could have imagined.
"Perhaps for our grandchildren, Urban Birds might be the only way to explain to them how Wales used to sound to us."
Related Internet Links
The BBC is not responsible for the content of external sites.