Measles epidemic: Swansea cases rise and 'huge concern' in Gwent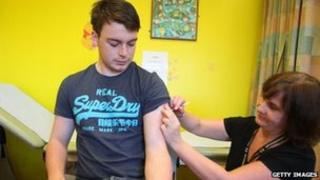 The number of cases of measles in the Swansea area has risen by 13, bringing the total to 1,074, health officials have said.
Public Health Wales (PHW) has said 1,237 people across Wales have contracted the disease - and it remains concerned the outbreak may spread.
Health officials have "huge concern" about cases in the old Gwent area.
Since November 2012, 84 measles cases there have been reported and almost 10,000 children remain unvaccinated.
Releasing its latest figures, PHW said youngsters aged between 10 and 18 are most at risk.
More than 43,000 non-routine MMR vaccinations have been given since the epidemic began in the Abertawe Bro Morgannwg University Health Board area.
The number of unvaccinated children has reduced by 46%.
However, concerns remain for the 38,000 children across who have not been vaccinated.
PHW said fewer than 2,500 10 to 18-year-olds have been vaccinated in the former Gwent, leaving it vulnerable to outbreaks.
A drop-in clinic will be held in Newport at the weekend for for anyone who has not received the MMR (mumps, measles and rubella) jab.
Dr Marion Lyons, director of health protection for Public Health Wales, said: "Thirteen new cases in the last two days may not seem like a lot, but it should be remembered that in 2011 we only saw 19 measles cases in the whole of Wales for the whole of the year.
"The 84 cases in Gwent are a huge concern to us and with 10,000 children there still in need of vaccination, we are warning young people and parents not to be complacent just because they don't live in the outbreak area.
"It is encouraging to see so many parents bringing their children for vaccination now who refused the vaccine in the past, and we must keep this up if we are going to see an end to the current outbreak and have the best chance of preventing more outbreaks in the future."