Blue badge holders charged for parking by seven Welsh councils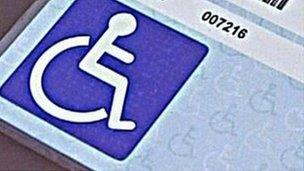 Disabled drivers with blue badges are being charged to park at council-run car parks in almost a third of local authority areas in Wales, figures show.
Charities are calling it a tax on disability at a time of benefit cuts and welfare reforms.
But councils argue they are facing severe financial pressures, while the Welsh government said it was up to local authorities whether to charge.
There are around 230,000 blue badge holders in Wales.
The parking charge figures follow a freedom of information request by Plaid Cymru.
It shows that Denbighshire, Merthyr Tydfil, Neath Port Talbot, Pembrokeshire, Swansea, one park in Newport and Caerphilly all expect blue badge holders to pay. But Caerphilly said it was reviewing the policy.
The charity Disability Wales said the charges come at a time when disabled people could afford it least as they faced benefit cuts and welfare reform.
"Charging blue badge recipients to park is not new and unfortunately is in fact becoming increasingly common due to local authority funding shortfalls," said a Disability Wales spokesperson.
"Disability Wales are against car parking charges for blue badge recipients as its seen as an additional tax on disability."
Brian Williams organises a support group for people with multiple sclerosis.
As a sufferer himself, he is also a driver with a blue badge but that does not entitle him to free parking in his local area, Caerphilly.
"On one occasion people may say it's an insignificant amount up to three or four hours, but if you wanted to go three or four times to do it it's soon going to add up and it's going to erode any sort of income that people have," said Mr Williams.
Bridgend council had been considering introducing charges for blue badge holders but decided against it last week.
"Most disabled people don't have a choice. They have to use their car to come into town." said Simon Green of Bridgend Coalition for Disabled People.
"Most people can choose whether they walk, whether they catch the bus or whether they take their car. A lot of public transport is not fully accessible for the disabled, so it's the right decision."
The Welsh government said it was up to local authorities whether to charge and councils argued they were facing severe financial pressures of their own.
Plaid Cymru's equalities spokesperson Lindsay Whittle said: "I'd like to see local authorities that currently charge review whether they are still appropriate."
Related Internet Links
The BBC is not responsible for the content of external sites.