New York Welsh pub Longbow faces discrimination fine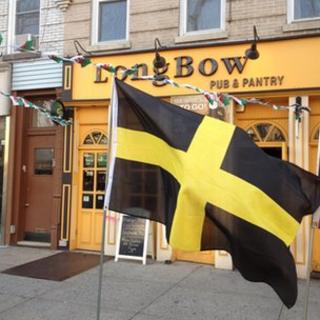 A Welsh pub in New York is facing a fine after advertising for staff with knowledge of Welsh culture.
Michael Colbert, originally from Wrexham, and his American wife Jennifer have been accused of discrimination.
They say they face a fine of $7,500 (£4,800) if they lose their case over the LongBow pub in Brooklyn.
They claim the advert wanted someone with a "specific skill set" but the New York City Commission of Human Rights said it believed it was discrimination.
Mr Colbert, who moved to America in the 1980s, told BBC Radio Wales that the couple feel they have to go to court to state their case.
"We are hoping down the line we can come to some agreement about what occurred, he said.
"We feel we need to go to court to have ourselves heard. There has been a nuance mistake, that's all."
The couple advertise their business as the only Welsh pub in New York and they said they were looking for someone who knew Welsh and British culture but did not want anyone with a specific nationality.
Mrs Colbert said: "The city has to protect the population against discrimination.
"However, in our case it is imperative that our staff understand British culture no matter how that happens.
"Did we write that only British people can apply? Of course we didn't. We are not looking to discriminate based on national origin."
The couple said the fine they faced was currently $2,100 (£1,300) as part of the conciliation process.
However, if they go to court and lose their case then they face a $7,500 fine, not including legal representation.
Cliff Mulqueen, general counsel of the New York City Commission of Human Rights, said: "There's an argument that someone who works in a Chinese restaurant, for example, may need to speak Chinese in order to communicate with their co-workers.
"But there's a difference between saying you have to speak Chinese and saying you have to be Chinese.
"The point is that she posted an ad that is discriminatory because she is expressing a preference for one group of people over another."