Stephen Fry takes role in WNO Youth Opera's Paul Bunyan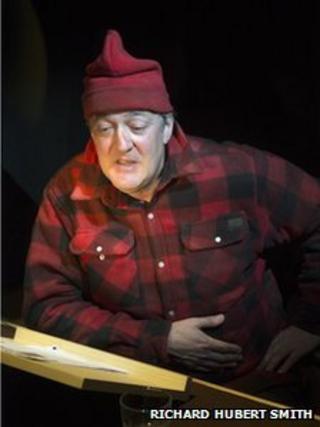 Actor and comedian Stephen Fry will appear in a youth production for Welsh National Opera (WNO) this summer.
Fry, an opera lover and lifelong Richard Wagner fan, says he is thrilled to be part of a production of Benjamin Britten's Paul Bunyan.
But he will not be there in person and will be seen via voiceover and visual projection.
Members of youth choir Only Boys Aloud also take part in the show at the Wales Millennium Centre in Cardiff.
The QI presenter pre-recorded the off-stage spoken role of Paul Bunyan, the larger-than-life boss of a group of lumberjacks who has a vision of what America could be.
He orders them to clear the forests to make way for modern America.
"As a lifelong opera lover I'm thrilled to be part of WNO Youth Opera's new production of Paul Bunyan," said Fry.
"Harnessing the energy and passion of this young company is an extremely appropriate way to celebrate Benjamin Britten's centenary year, and I hope that the young singers, musicians and technical students will spread their enthusiasm for this fantastic artform to their friends and families."
Fry has appeared in opera before with a part in a recording of the Richard Strauss opera Ariadne auf Naxos.
He also provided the translation for Kenneth Branagh's film The Magic Flute which celebrated Mozart's 250th anniversary and appeared in the BBC film Wagner & Me which followed preparations for the 2009 Bayreuth Festival.
Forty singers, 35 orchestral players, eight technical students, 13 costume makers and ten students of wigs and make-up, all aged 16 and 25, are in the production team.
The show will also feature more than 100 members of Only Boys Aloud, the spin-off youth choir of Only Men Aloud and finalists in Britain's Got Talent.
The members of the youth opera not only perform on the same home stage as WNO, but are also mentored by members of the company and other industry professionals.
This year's director is Martin Constantine of English National Opera (ENO) Opera Works who recently directed the world premiere of the opera The Owl and the Pussycat for the Royal Opera House.
Paul Bunyan will be performed on Friday 23 and Saturday 24 August at the Wales Millennium Centre in Cardiff.