Badger vaccination against TB starts again in Wales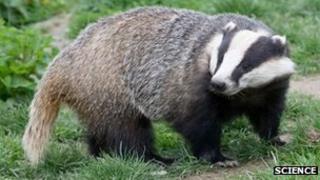 The second year of a five-year badger vaccination project has started in parts of south west and mid Wales in an attempt to eradicate bovine TB.
Ministers say they are monitoring results carefully after more than 1,400 badgers were vaccinated in trials ending last November.
These replaced a controversial cull and were carried out in a so-called intensive action area (IAA).
The IAA covers parts of Pembrokeshire, Carmarthenshire and Ceredigion.
The vaccination work will be carried out in three-week cycles in up to 12 locations throughout the IAA and is expected to continue until the end of October.
Minister for Natural Resources and Food Alun Davies said: "Our vaccination project is aimed at developing a degree of immunity to TB within the badger population.
"Participation in the project is voluntary and I am very grateful for the ongoing cooperation and assistance that has been shown by farmers and landowners in the area.
"We are continuing to monitor the results of vaccination, and of our whole eradication programme, carefully to ensure we are making good progress towards our ultimate goal of a TB free Wales."
The IAA is primarily located in north Pembrokeshire, but includes small parts of Ceredigion and Carmarthenshire.
The Welsh government said last year it was one of the areas with the highest incidence of bovine TB in Europe.
The IAA covers 288 sq km (110 sq m) and it is thought to be the first time a project to cage and vaccinate badgers has been carried out on this scale.
The decision to scrap the cull in March last year angered political opponents and agricultural unions who say the disease has a devastating impact on cattle farms.