Wales child abuse: Malcolm King in royal commission call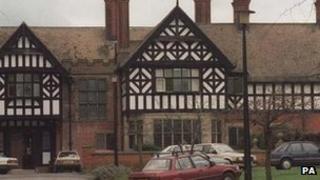 A Wrexham councillor who helped to expose historical abuse at north Wales children's homes has called for a royal commission to examine the wider issue.
Malcolm King says the public inquiry is needed as police working on Operation Pallial found "significant evidence of systemic and serious sexual and physical abuse" between 1963 and 1992.
So far 140 allegations of historical abuse have been made.
Seventy six new complainants have also come forward.
The claims centre on 18 homes involving offences against boys and girls aged between seven and 19.
A total of 84 suspected offenders have been named - 75 male and nine female. Of these, 16 have been named by more than one complainant.
'Overall view'
It is believed that 10 of the 16 may be deceased.
But Mr King, who was chair of social services at the former Clwyd county council and who campaigned for a judicial inquiry, says the issue goes beyond north Wales.
"I think one of the key things in all of this is that we need to have an overall view of all of it because at the moment that isn't happening - it isn't just about north Wales," he said.
"This has been going on everywhere across Britain for generations and we need to understand more of it.
"I believe we need to follow the example of Australia and set up a royal commission to look up the whole issue of child abuse, both historic and what we're doing now.
"My firm belief is we are doing nowhere near enough to protect our children today.
"As we speak... there will be hundreds of children being abused across Britain and we must, must not feel ok about that because it's damaging children for all their lives.
"We've got to do more as a nation to stop this and we simply aren't putting the effort in that we need to."
A royal commission is a public inquiry, established by the head of state, into a defined subject and overseen by a commissioner who has quasi-judicial powers.
Home Secretary Theresa May ordered Operation Pallial following a Newsnight report in November, that as well as leading to a Tory peer being falsely accused of paedophilia, alleged that child abuse in north Wales in the 1970s and 1980s was far more widespread than had previously been investigated.
The investigation involves police officers and staff, primarily from forces in north-west England, supported by members of the Serious Organised Crime Agency (Soca) and the Child Exploitation and Online Protection Centre (CEOP Centre).
Waterhouse inquiry
By December it had heard from 105 victims of alleged abuse.
A separate review by Mrs Justice Macur is investigating the terms of the Waterhouse abuse inquiry, which began in 1996.
It examined the abuse of victims in former north Wales care homes such as Bryn Estyn in Wrexham dating back to the 1970s.
The new inquiry followed a victim's claims that Sir Ronald Waterhouse only uncovered a fraction of the abuse.
Those claims surfaced in the wake of the Jimmy Savile scandal.
Last week, one man was arrested in Ipswich, Suffolk, as part of Operation Pallial and questioned on suspicion of serious sexual offences against a number of people. He has been bailed until July.
Keith Gregory, a Wrexham councillor who alleges he was abused as a child while in care at Bryn Estyn, says victims will feel they are now being believed.
"To bring justice these allegations need to be looked at," said Mr Gregory.
"It feels like at last we are starting to be believed."