Masterchef: Cardiff's Larkin Cen, Dale Williams in final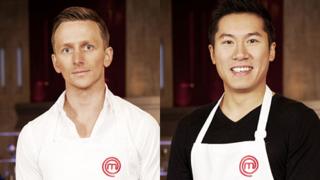 Two amateur cooks from Cardiff have made it to the final three of the MasterChef contest on BBC One.
Solicitor Larkin Cen, 28, was chosen despite a kitchen calamity in which he saw a souffle crash to the floor.
Recruitment consultant Dale Williams, also 28, impressed a group of top restaurant critics who sampled his three courses.
Londoner Natalie Coleman is the third contender in the final which will be shown from Tuesday to Thursday night.
The two contestants from Cardiff are from opposite ends of the city, with Mr Cen growing up above his parents' Man Sang Chinese takeaway in Ely and attending Llandaff Cathedral School while Mr Williams went to St Teilo's School from his home in Rumney.
The MasterChef final can be seen from Tuesday 30 April to Thursday 2 May at 21:00 BST on BBC One.