Swansea measles: 2,500 receive MMR jab at drop-in clinics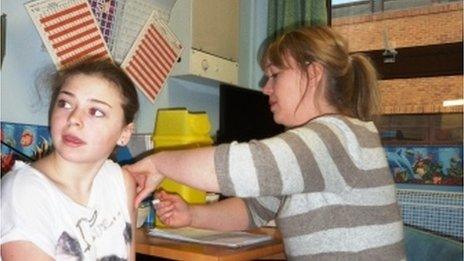 More than 2,500 people have received MMR vaccinations in a fourth weekend of special clinics to tackle the Swansea measles epidemic.
Health board officials welcomed the high turnout at sessions in Swansea, Neath Port Talbot and Bridgend.
The figure includes 570 people who received jabs at the first clinic to be held in Llanelli, Carmarthenshire.
More than 940 measles cases have been confirmed with 83 people needing hospital treatment.
Abertawe Bro Morgannwg University Health Board (ABM), which covers the Swansea area, plans more evening drop-in clinics during the coming week.
The number of cases in the epidemic which began last November could pass 1,000 over the weekend if current trends continue.
Dr Sara Hayes, ABM Director of Public Health, said they were really pleased to see so many people attending the clinics on Saturday.
"By having your MMR you are not only protecting yourself from a horrible virus, but others such as very young babies and people who are vulnerable because they are having treatment for conditions like cancer.
"We are particularly targeting children and teenagers aged between 10 and 18 years of age who probably missed having the MMR when they were little.
"We are going in to more secondary schools offering the MMR, but if you don't want to wait or miss the session in school we are running some evening drop-in clinics next week or you can go to your GP."
The neighbouring Hywel Dda health board said around 570 people were vaccinated at the first drop-in clinic held in Llanelli, Carmarthenshire.
The board described it as "very successful" with the ages of the people who received the vaccination ranging from six months to 94 years old.
Sixty five cases have been confirmed in Llanelli since the start of the year.
All schools in the Hywel Dda region - which covers Carmarthenshire, Ceredigion and Pembrokeshire - will offer vaccinations to an estimated 4,000 schoolchildren over the next four weeks.
Two other health boards - Anuerin Bevan and Cardiff and Vale - held drop-in MMR clinics on previous weekends.
Cases have also been identified in north Powys, and the Betsi Cadwaladr University Health Board serving north Wales is beginning a programme of vaccination sessions in schools.
So far, only one suspected death has been linked to the measles outbreak.
Further tests are to be carried out on Gareth Colfer-Williams, 25, from Swansea, to establish the cause of death.
He had measles but was known to have suffered other health problems including asthma. A post-mortem examination proved inconclusive.
Meanwhile the Welsh Conservatives' health spokesman has called for a public inquiry.
Darren Millar told his party conference in Swansea: "Once this epidemic has subsided - as it eventually will - the Welsh Conservatives will press for a public inquiry into the outbreak to ensure that lessons can be learned."
In England, a £20m catch-up campaign already has 1.2 million vaccines ready to go amid concerns that that a generation of children have low levels of protection against measles after the MMR scare more than a decade ago.
The campaign aims to vaccinate children yet to be protected with the MMR - measles, mumps and rubella - jab by September.
Run through GPs, schools and community groups, it will focus on children aged 10 to 16.
Related Internet Links
The BBC is not responsible for the content of external sites.