MMR jab plea ahead of Urdd Eisteddfod in Cilwendeg, Pembrokeshire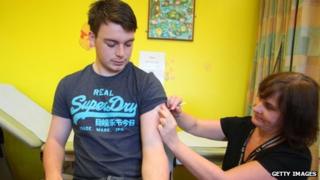 Thousands of adults and children planning to attend the Urdd Eisteddfod next month are being urged to make sure they are vaccinated against measles.
Public Health Wales (PHW) said if people are not immunised before going to the festival in Pembrokeshire the infection could spread throughout Wales.
Another 56 measles cases have been reported to PHW since Tuesday.
The total figure for the epidemic in the Swansea area now stands at 942.
The size of the Urdd festival, and the fact it involves children travelling from across Wales, has led to the immunisation warning.
With around 15,000 competitors and 100,000 visitors expected to converge for the youth event, public health officials fear it could result in the infection being spread to other parts of Wales.
"We know that measles is highly contagious - it spreads from person to person very easily," Dr Rhianwen Stiff, PHW speciality registrar in public health told BBC Radio Cymru.
"What we suggest is that everyone who is going to compete in the Urdd, or will be visiting, has checked with their GP before they go that they have had two MMR jabs," she added.
The 2013 Urdd Eisteddfod will be held in Cilwendeg, just south of Cardigan, from 27 May to 1 June.
Urdd chief executive Efa Gruffudd Jones said organisers were in constant contact with PHW to discuss the best way of advising visitors.
The event's website also has a message from PHW warning people about the outbreak and urging everyone to check they are immunised.
The Urdd Eisteddfod claims to be Europe's largest arts youth festival, with thousands of young people from across Wales visiting the event every year for music, dance, performance, art and poetry competitions in the Welsh language.
Latest figures show the number of measles cases in the Hywel Dda health board area, which includes Pembrokeshire, have passed 100.
However, the bulk of the 942 cases in mid and west Wales are around Swansea.
Dr Marion Lyons, PHW director of health protection, said the increase of cases on Thursday shows the outbreak is not easing up, especially in the 10 to 18 year old age group.
She added: "Young people have important examinations coming up and we need to make sure that those aged between 10 and 18 are vaccinated so their preparation for these examinations are not affected.
"Vaccination sessions are continuing in schools throughout Wales and I urge pupils and their parents to take advantage of these.
"We have seen that measles can be potentially fatal and no one should be complacent about the severity of measles. It can kill but can be prevented by a simple, safe vaccine."
A third week of MMR clinics at schools in Swansea and Neath Port Talbot will begin on Monday and drop-in vaccination sessions will again be held across the outbreak area this Saturday.
Meanwhile further tests will be carried out on a man who died while suffering from measles after post-mortem examination results were inconclusive.
Gareth Colfer-Williams, 25, who died last week at his home in Swansea, had other health problems as well as measles.
The Swansea coroner's office said on Thursday that the examination was unable to establish whether measles was the main cause of his death.