UK Peace Index says South Wales is most peaceful urban area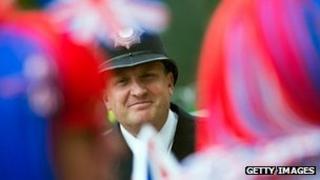 South Wales is the most peaceful urban area in the UK according to researchers studying crime and violence.
The UK Peace Index ranked 10 urban police force areas according to homicide, violent crime and police officers per head of population.
As the only Welsh force in the list, South Wales was ranked most peaceful over South Yorkshire, Nottinghamshire, West Yorkshire and Merseyside.
Police and crime commissioner Alun Michael said there was more to be done.
He added: "There's still a lot more to be done and as police and crime commissioner my intention to work with the police and other partners so that we continue on a trajectory of reducing crime including violence is clearly set out in the Police and Crime Reduction Plan which reflects the commitments of myself and the chief constable Peter Vaughan."
Jeff Davison of the Safer Swansea Partnership said it was "welcome" news.
"It's definitely fair to say that crime and disorder in Swansea and south Wales generally has been significantly reduced," said Mr Davison, strategic manager for community safety at the organisation.
He said he hoped it showed that people were "beginning to feel safer".
But Carolyn Hodrien, director of the Victim Support charity responsible for Wales, said more needed to be done.
"Although we welcome the fall in violent crime in Wales, each case of violent crime is too much," she said.
"Being a victim can be traumatic and leave both physical and emotional scars."
The report also said Wales was "easily" the most peaceful of the UK nations.
But four regions of England were deemed to be more peaceful than Wales - South East (excluding London), East, the South West and the East Midlands.
The UK Peace Index has been drawn up for the first time in a report for the Institute for Economics and Peace, which defined peace as "the absence of violence or fear of violence".
The report also says rates of murder and violent crime have fallen more rapidly in the UK in the past decade than many other countries in western Europe.
Poverty and education
The IEP used Home Office data on crime, such as public disorder offences and weapons crime, and police officer numbers to calculate its findings.
It found the violent crime rate in the UK fell faster than the European average and was down by about one quarter - from 1,255 per 100,000 people in 2003, to 933 in 2012.
IEP chairman Steve Killelea said the increased level of peace in the UK "cannot be narrowed down to any single factor".
But he added: "The findings of the UK Peace Index show that poverty and economic opportunity are significantly associated with peace, as supported by other international studies, including the US Peace Index.
"This suggests greater emphasis needs to be placed on programmes that tackle poverty and related issues, such as access to education and economic opportunity."
Barbara Natasegara, chief executive officer of the Safer Wales charity, said she welcomed the news, adding: "However, we are continuing to see a rise in the number of women and men who experience high levels of domestic abuse and sexual violence accessing our services".
She added: "We must not forget that many people do not live a peaceful life without fear."
Meanwhile a separate study by Cardiff University suggests the number of people treated in hospital in England and Wales after violent incidents fell by 14% in 2012.