Singer Katherine Jenkins defends London Marathon look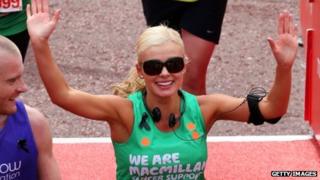 Singer Katherine Jenkins has defended herself after she was criticised for running the London Marathon in designer sunglasses, make-up and diamond earrings.
Daily Mail columnist Jan Moir accused the Welsh star of being "fame-hungry" and too groomed for Sunday's race.
But Jenkins insists her only motivation was running in memory of her late father and for charity.
She said: "It's a shame people knock you when you're trying to do good."
In her column Moir said: "At the weekend, the fame-hungry Welsh mezzo-soprano managed to top even her own high standards of dumbfounding public appearances."
She then criticised the singer's appearance, describing her £200 Prada sunglasses, full make-up, "immaculate" ponytail and "raisin-sized" diamond earrings.
The columnist went on: "Among all the runners at the start of the race on Sunday, 32-year-old Katherine was uniquely red carpet magnifico."
She added: "Perhaps the only miracle was that she didn't run backwards, in high heels, while singing the Welsh national anthem at the top of her voice."
But Moir did acknowledge that there was "much to admire" about the singer, and "only a fool would dismiss Katherine Jenkins or her career. She is a very modern celebrity".
She added: "In short, a woman to be reckoned with in the great race of life."
But speaking on BBC Radio Wales, Jenkins, from Neath, said the criticism was unnecessary and hurtful.
"My one motivation on Sunday was to remember my dad and raise money for a good cause and the rest of it is pure nonsense," she said.
"Let's hope we see her [Moir] running a marathon next year."
The singer also used Twitter to say the reason she wore sunglasses was because it was a sunny day and that she tied her hair back because she expected to sweat.
"As if you had some insider knowledge you wrote I was wearing eye shadow, eye liner & lip gloss," she wrote, directing her tweet at Moir.
"Wrong again - none of the above - I had Vaseline on my lips, handed to us by St Johns Ambulance [sic] on our way round the route
"You can knock me all you like but you cannot take away from me what I know I accomplished last weekend."
Jenkins has so far raised £25,000 for Macmillan Cancer Support, which she chose as her charity because its nurses helped her father Selwyn before he died of lung cancer when she was 15.
She completed the marathon course in five-and-a-half hours.
She told Radio Wales: "It was such an amazing atmosphere. I can't thank the crowds enough for getting every single one of us through it."