Masterchef: Cardiff's Larkin Cen, Dale Williams bid for final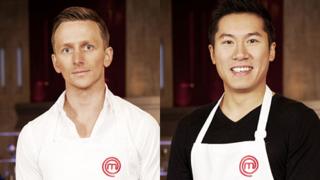 Two amateur chefs from Cardiff are hoping for culinary glory after making it to the last four of the MasterChef contest on BBC One.
Larkin Cen admitted he had not cooked regularly for many years before the contest but as the son of Chinese takeaway owners he was very interested.
Dale Williams, also 28, said he could not be a professional chef but would like to work in the restaurant trade.
The semi-finals began on Wednesday night and run for three nights.
The two contestants are from opposite ends of the city, with Mr Cen growing up above his parents' Man Sang takeaway in Ely and attending Llandaff Cathedral School while Mr Williams went to St Teilo's School from his home in Rumney.
Mr Cen, a solicitor now working in Bristol, said his mother was a very good cook but his parents tried to keep him out of the kitchen to focus on his studies.
"I can understand this, because my parents know how hard catering is and they didn't want that life for my brother and myself.
"I do like cooking a lot but it's hard to balance with the hours I work," he said. "Over the past five or six years I haven't cooked that much. When you finish work at nine, ten, eleven o'clock, the last thing you want to do is rustle up some paella."
'I'd never made a dessert before'
However he called cooking a "massive love", adding: "I used to really frustrate my parents because because they wanted me to study hard and get good results, but at weekends I used to watch programme after programme about cooking.
"The reason I applied for MasterChef was to give myself a way out of the law, not yet because I have got commitments, but in time.
"When I had the call to go onto MasterChef it suddenly dawned on me I couldn't make a fool of myself on television so I had a few weeks to get myself up standard. It was true I'd never made a dessert before.
"It's been a very steep learning curve. Everyone is so good."
Mr Cen would like to see the perception of Chinese food change, adding: "I just wish people could experience more of it, because the flavours, textures and skill of dishes really need to be showcased."
Whether he wins or not, his ambition is to promote south Chinese food which he thinks is on a par with French cuisine. He admits to having ambitions to his own TV show, adding with a laugh: "Well, Ken Hom's getting on a bit now."
'I'm an ideas man'
Mr Williams, who currently works as a recruitment consultant has said he would like to get into food production or the restaurant trade, admits he could not handle working as a chef for 15 hours a day.
As the manager of his own company, he sees any future involvement as coming from the business side of the trade.
"Cooking doesn't run in the family professionally," he said. "My mum is the inspiration behind home cooked family food and this has turned into my sisters and I being keen cooks.
"I just love cooking and I wanted to introduce food into my working life and MasterChef seemed like a good way to do that and see if I was any good.
"Most of my cooking is classic French. It's probably because I holidayed more in France as a kid. But I just cook from so many different regions of the world."
Asked if he had been nervous when he joined the contest, he said it was almost the reverse.
"I went into the show feeling quite confident. I went in thinking I was good, then after the first few rounds I realised the standard was really high! Towards the end your confidence grows as you get through the later rounds and now the semi-final," he said.
However, he says it has been impossible to predict who will make it to the final, or be the eventual winner.
"It's such a difficult process that you can never be confident for the way a round will go. You're up against such strong chefs in their own right so until you get the word from the judges you don't know."
Mr Williams hopes to move into food production in some way, possibly producing a range of fresh, healthy meals, or looking at condiments.
He added: "I'm an ideas man more than the man on the ground."
The two will compete alongside finance worker and DJ Natalie Coleman, 29, and housewife Saira Hamilton, 38. Three will be chosen to go through to the finals next week.
MasterChef: The Semi-Finals is on BBC One at 20:00 BST on Wednesday and Thursday and 20:30 on Friday.