Swansea measles: Grieving mother speaks of son's death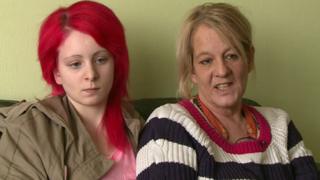 The mother of a Swansea man who was suffering from measles when he died has spoken of the family's devastation.
Gareth Colfer-Williams, 25, was found at his flat in Port Tennant on Thursday.
Tests have revealed he had measles but results of a post mortem examination are expected to determine the exact cause of death.
His mother Angela Colfer said her son was "very, very devoted to family".
Mr Colfer-Williams, who leaves a fiancee Cairo and young daughter Dakota, had been treated in Morriston hospital in Swansea for his asthma and not for measles.
His family said a few days after he was discharged he became unwell and developed a rash.
Mrs Colfer said her son went to see an out-of-hours GP on Wednesday evening with a rash "from head to foot" but not on his arms.
But the following morning, Mr Colfer-Williams was found dead at his flat.
Mrs Colfer said her son, who weighed just 8st at 6ft 1ins tall, suffered from asthma and was taking vitamins.
His sister Georgia Colfer said: "He was all red. He was covered. He looked like he'd been in the sun for days and that was just before he died.
"I saw him on the days before he died. I was shocked to see my brother so out of it."
His mother said: "He was very, very devoted to family. He did everything with his daughter Dakota."
Public Health Wales on Friday said laboratory tests confirmed a diagnosis of measles in Mr Colfer-Williams but further tests were needed to determine the cause of death.
The family said they had no idea how he got it as no close family member has had measles, including Mr Colfer-Williams' three-year-old daughter, who has been vaccinated.
As the epidemic has developed, and cases risen to more than 800, health officials have been concerned about teenagers and adults developing measles.
Dr Sara Hayes, director of public health for Abertawe Bro Morgannwg Health Board (AMBU), said: "The message is if you were born after 1970 and you haven't had a measles or two MMRs, you should come for a vaccination if you live in our area."
More vaccinations will be held in schools in the Swansea and Neath Port Talbot areas from Monday, after 1,825 people attended drop-in clinics in hospitals on Saturday.
A special Week In Week Out on the measles epidemic will be on BBC One Wales at 22:35 BST on Wednesday 24 April.